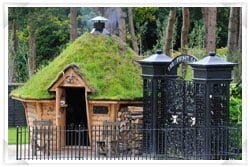 Next to the extraordinary Poison Garden at Alnwick Gardens in Northumberland is a quaint timber cabin. With its rustic logs and octagonal shape, it's out of a story by the Brothers Grimm – one of the more sinister ones, judging by the skull-and-crossbones on the locked gates of the adjacent garden.
Adding to the silvan atmosphere is the evocative smell of woodsmoke drifting from the cabin. The centrepiece of the cabin is a raised indoor log fire.  As well as being a wonderful focal point, it can be used as an indoor barbecue.
Everything at Alnwick Gardens is done on a grand scale (if you're in doubt about this, take a look at the Harry Potter style treehouse). But, unlike most of their ideas, the BBQ house can actually be replicated in a back garden, and with the unpredictable UK weather, that means you can barbecue all year round.
If you like the cabin at Alnwick Garden, and you're an avid barbecue cook, then you'll be delighted to discover that GardenLife sell BBQ huts with an almost identical design – octagonal shape, Nordic-style doorway, picturesque chimney, and an optional internal BBQ grill and smoke extractor hood. As GardenLife cater for different garden sizes, these barbecue huts are available in two different sizes; Kim (with a 3.2m diameter) and the larger, slightly taller Greta (3.8m in diameter).
BBQ huts – also sold as barbecue lodges or even Arctic grill houses and smoke houses – derive from the huts (called 'kota') used by Saami reindeer herders in the Far North of Finland. Originally covered with reindeer skins, they usually have bench-style seating around the edge, used for sleeping as well as sitting.
The popularity of BBQ huts is soaring in the UK because they allow the Brits to extend their passion to barbecue all year round. With a barbecue hut, it's possible to barbecue whatever the weather – on a sunny bank holiday weekend, you can enjoy wasp-free burgers inside the cabin, with door and windows thrown open to let in the breeze. In rain, snow and mist, you can enjoy 'outdoor living' indoors, still enjoying the unbeatable taste of a great barbecued steak, and swapping the Pimms for a good red wine.
Barbecue houses can also double as quaint sleepover huts (simply use cushions and sleeping bags on the benches), or a snug (the ideal place to make and enjoy some home brew).
The Arctic origins of BBQ huts lead many people to decorate them Nordic-style, with reindeer skins, sheepskins or (fake) furs on the benches or floor, and Nordic accessories like wooden tableware. Finnish Marimmeko fabrics give a more modern Nordic feel, whilst children may like a Moomin theme (using this for tableware or cushions is more easily reversible when their tastes change).
Another option is to look across the Atlantic for your design inspiration. Search terms like 'Mexican', 'Santa Fe', 'hacienda' or 'TexMex' style produce some great affordable design ideas, including:
fabrics in vibrant and exuberant red, terracotta and ochre shades
handpainted Mexican pottery
Mexican tiles (either in blue/white or red patterns) as mats
woven Mexican wall hangings
brightly coloured or plain woven baskets for storage
even a cactus!
All these are easy to source wherever you live in the UK. The look works brilliantly with the wooden beams of a timber cabin, and makes a great backdrop for an indoor barbecue grill.
If you don't want to go the whole hog and buy a BBQ lodge, a gazebo gives meteorological flexibility and protection, providing shelter from too much sun or too much rain. Gazebos such as GardenLife's Dove, Calder, Leven and Foss models are also a great idea if you have small children – keeping the barbecue in a safe, enclosed area whilst the kids run around the rest of the garden.
A summer house provides somewhere dry and draught-proof to enjoy your burgers if the sky suddenly blackens mid-barbecue. It can also act as a windbreak – especially if you buy a model with a sizeable roof overhang – making it easier to get your charcoal lit in the first place.
Do watch out if you're barbecuing near a timber building, though. And never be tempted to move an outdoor barbecue indoors – it's not just fire that's a risk, but carbon monoxide poisoning too. Only barbecue indoors if you're using a specially designed indoor BBQ grill and smoke extractor like the ones we offer with Greta or Kim.
Alnwick Garden photo credit: http://paradisexpress.blogspot.co.uk/2012/11/alnwick-garden.html