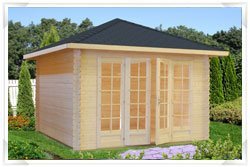 As more people become fed up with commuting and opt to work at home, we're hearing more and more about the home office, particular the timber garden office. The design of garden buildings has developed accordingly – alongside summerhouses and traditional sheds, you can now find specially designed garden offices and work studios.
The designs and choice have evolved, but garden working is not so new. There's a long line of great authors who have used a timber garden office as their writing den – the perfect place to be creative and escape the distractions of everyday life.
Probably the author best-known for writing in the garden was Roald Dahl, who wrote books such as Matilda and Charlie and the Chocolate Factory in his 'writing hut' in Buckinghamshire. It's even been preserved in a gallery at the Roald Dahl Museum and Story Centre. Dahl had a weird and wonderful selection of mementoes in his hut, including his own hip bone and a ball made of chocolate foil wrappers.
Philip Pullman has also used his shed to produce wonderful children's books. He told interviewer David Frost in 2002, "It's a good place to work, it's away from the house, it's quiet, it's cool in the summer and warm in winter and it works." Pullman also said that he never tidied the shed when he was in the middle of a book: "I have my little superstitions … let the cobwebs grow while I'm writing the book and I tidy it up afterwards."
Authors Virginia Woolf and Dylan Thomas were also garden writers. Virginia Woolf wrote in a converted wooden too lshed in the garden of their home, Monk's House, in Sussex. However, it was so cold in winter that she couldn't hold her pen, and had to retreat indoors. Later, she had a 'writing lodge' built at the bottom of their garden. Monk's House is now owned by the National Trust, so it's possible to visit the house and the writing room.
Dylan Thomas wrote in a former garage at his home in Laugharne, Wales. Earlier this year a replica of the shed went on tour around the UK to celebrate the centenary of his birth!
Writer George Bernard Shaw had a wooden cabin built on a turntable so he could rotate the building to follow the sun (nowadays, perhaps it would be easier to install windows facing all round, or a window in the roof). He also had a bed and a telephone in his cabin.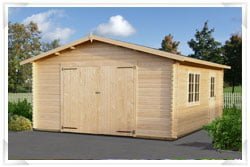 Some of the world's most successful businesses began life in the garden (or being American, in the yard). Many dotcoms and social media brands spent their early years in various garages around the US – not as picturesque as a timber garden office, but probably better suited for business. Amazon started out in Jeff Bezos' garage in Washington; and Larry Page and Sergey Brin worked out of a California garage in the early days of Google.
But don't think that starting a global business out of a garage or shed is just a 1990s thing. The first Harley-Davidson motorbike was built in a wooden cabin in Milwaukee in 1901-3, and Bill Hewlett and Dave Packard founded Hewlett-Packard in Packard's garage in 1939.
There are dozens more examples, of course – writers, business empires, artists, musicians, and many more. The comedian Vic Reeves apparently has five different garden sheds, where he writes, thinks and generally escapes from life. And that's the point – a timber garden office is a place to escape from family, housework, noise, TV, and anything else distracting or restrictive. And once you have that extra space, you have a blank slate for doing exactly as you wish – it could be having a nap, or it could be writing a best-selling novel or starting a business. That's what's so great about garden living!