Following on from last months' post announcing GardenLife's new bespoke garden building design service, we've pulled together a few notes and photos on another bespoke project we undertook not long back down in the Borders.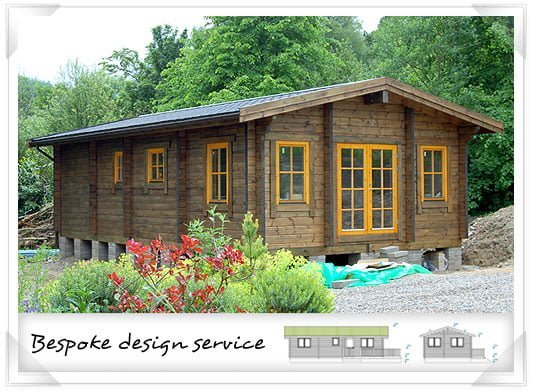 Project Name: Bespoke Holiday Log Cabin
Location: Peebles, Scottish Borders
Client Brief: GardenLife Log Cabins were tasked to design and build a substantial log cabin for year round holiday use with five internal rooms, including a bathroom and open plan lounge. The log cabin was to be open and light to take in the amazing views of the surrounding woods and hills, but also warm enough to accommodate holiday makers in the depths of a Scottish winter!
Technical Specification: The log cabin was built with dense 88mm laminated timber (much thicker than standard designs of 44mm or 70mm) and was insulated throughout to ensure it remained warm even in winter. If you're interested, ground plans, cross sections and 3D renderings can be viewed in this PDF [1.2MB].
Completion Time: Including the time spent on planning and building regulation, as well as the usual applications and approvals, it took GardenLife eight months to complete the entire project (from initial consultation to watertight construction).
Concluding Notes: This project allowed GardenLife to design and build a great log cabin to act as a perfect holiday retreat in a beautiful and secluded area. When the bespoke log cabin is not in use by the client it is hired out to tourists (which helps with the running costs and upkeep).
If you'd like more details about GardenLife's bespoke timber building design service, or if you have your own plans for a holiday cabin in the woods, all you need do is contact us with your plans and questions.