We've put together some more notes and photos on a GardenLife bespoke office build (following the launch of our bespoke garden building design service).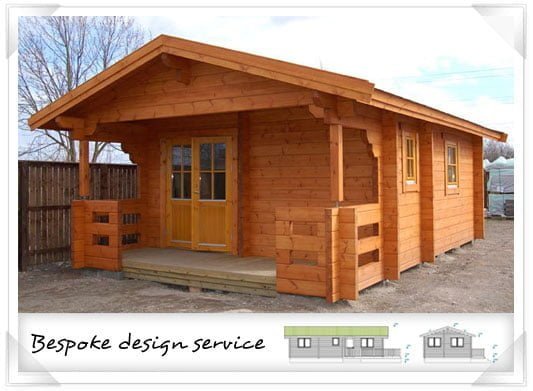 Project Name: Bespoke timber office building
Project Location: Dalkeith, Scottish Borders
Client Brief: Design and build a log cabin suitable for all year round office use for 2-3 persons, large enough to allow for desk space, filing and storage space, featuring a separate internal room and a terrace with a roof overhang.
Technical Specifications: This timber office was designed and built using 88mm thick laminated timber. This type of timber (as opposed to thinner log thickness's) provides living house quality, as well as excellent insulation qualities and a robust finish that will last for years. The windows and doors that GardenLife used were also living house quality. Building designs, plans and 3D renderings can be viewed in this PDF [3.7MB].
Completion Time: The office was designed, built, insulated and occupied within three months of the start date.
Concluding Notes: The client was very happy with their new timber office building, and given their small company it provided a great environment within which to work. The office is both cool in summer and snug in Winter, due to floor and ceiling insulation that's designed to keep temperatures regulated.
Thinking about designing your own timber office or garden building? GardenLife's bespoke timber building design service could be perfect for you. Feel free to get in touch with your plans and questions and we'd be happy to help.