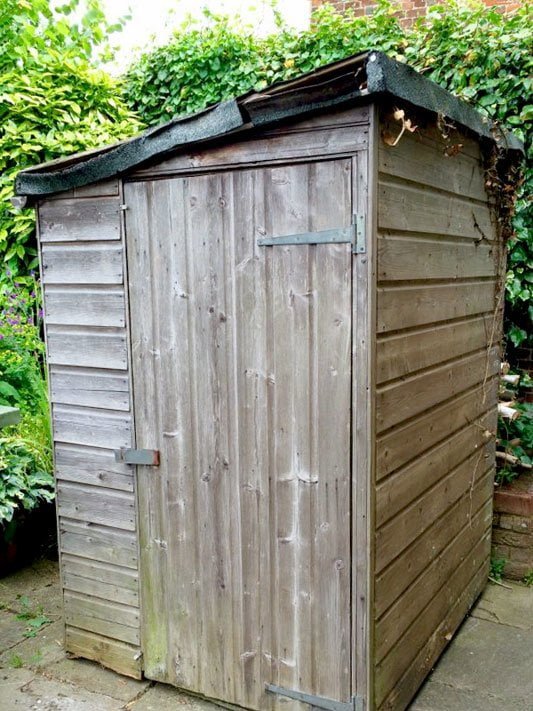 The best alternative to an overlap garden shed
Shiplap, weatherboard, tongue & groove, chalet cut; what's the best alternative to an overlap garden shed?
If you're buying a timber building for your garden, you want it to last. After all, why bother choosing and erecting a garden shed, workshop, summer house or office if it's going to turn rickety, draughty or damp? Last year's bargain overlap garden shed can quickly turn into next year's source of regret.
So, how can you spot quality and durability when you're buying a timber shed?
By looking at the wood, the build and the details. And you don't need a background in joinery or construction to know what to look for.
With overlap, know what you're getting, and you're not getting much
Bargain garden sheds often have 'overlap' cladding – each thin piece of timber overlaps the timber beneath it, so that rain runs straight down the side. These sheds are cheaper than other types of cladding but they're susceptible to warping and not very durable (overlap garden sheds often only use panels between 9 and 12mm thick).
Overlap cladding also can't support anything heavy such as shelving on the internal panels – not exactly what you want for a workroom, storage area or office.
The alternative to overlap panels? Individual chalet cut timbers
Many overlap garden sheds (and also tongue & groove sheds) come with prefabricated cladding panels which you screw into place. The attractions are obvious – they're fast to build.
The disadvantages are less obvious – for the first year or two at least. But after your first couple of winters, you may see warping in the timber. This is because wood swells or contracts according to the weather, which will take its toll on the build. The thin timbers can break (a risk that increases with age) and if the ground isn't perfectly level they can begin to lean.
The best alternative to an overlap garden shed is a garden building that uses individual chalet cut tongue and groove timbers that physically slot together and intersect at the corners. GardenLife Log Cabins use this technique because the 28 – 44mm thick timber is far stronger, sturdier and long lasting, plus the individual timbers tighten and lock together during cold weather.
A garden building erected with individual chalet cut timbers may take a day to build (instead of a couple of hours for an overlap shed) but the pieces slot together like Lego bricks and they are designed for simple step-by-step self assembly.
An office with 12mm overlap timber panels? Forget it
Another disadvantage with overlap sheds is that the timber can be thin. Very thin.
As mentioned above, many budget overlap sheds use 9-12mm timber – either for overlap cladding or tongue & groove. Try sitting in one of these sheds after sundown or in autumn and winter, and you'll quickly realise why Nordic shed-builders (who know a thing or two about timber) tend to use solid timber between 28 and 44mm thick.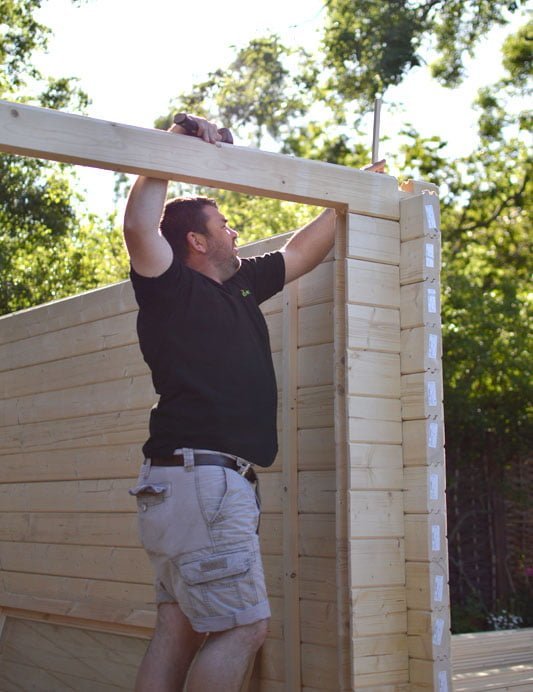 With our own range of chalet cut timber garden buildings, we generally advise that 19 – 28mm thick timber walls are ideal for use in summer, with 28mm insulated enough for spring and early autumn use too.
Thicker timber – 34mm, 44mm or even 70mm – provides enough insulation and warmth for all-year round use – important if you're looking for a workroom or garden office.
So, a 12mm overlap shed may look like a bargain. But you could end up spending all the money you save on buying polar exploration clothes to wear while you're working.
There's wood and then there's wood
When buying a timber garden building, you want wood that's dense and solid. And, in general, wood that grows slowly has a denser grain than fast-growing wood. That's not the case with most overlap garden sheds (and also tongue and groove sheds) which tend to be made from pine softwood.
For this reason, GardenLife use Nordic spruce – the colder Baltic climate means it grows more slowly than Mediterranean wood. That means you get a more robust, solid building with greater structural integrity and weather resistance. The timber offers better insulation, and is less likely to warp.
Look north for great ideas
Another Nordic area of expertise is design. And one design idea we love is the concept of the Quick Fit range of garden buildings. These easy-to-build cabins have 18mm timber, a windproof internal membrane, and optional insulation that fits directly into the wall cavities, and can be hidden behind internal cladding for a smarter finish and a warmer environment.

Overlap just can't compete – neither for warmth, nor for style.
What do heads and toes have to do with the best alternative to an overlap garden shed?
You know how the key to keeping warm in winter is to pay attention to your feet and head? How even the thickest coat won't keep you warm if your feet and head are not covered up properly as well?
Think of the same principle applying to sheds and garden buildings. If you're looking for robustness, longevity and insulation, check out the floor and the roof as well as the walls.
The OSB floors and roof that you'll get with many budget overlap garden sheds just can't match the better insulated, more durable 16-19mm thick tongue & groove roof and floor boards that we use at GardenLife. If you're looking for the best alternative to an overlap garden shed and the description mentions OSB, look elsewhere.
The ins and outs of choosing doors
With doors, the same rules apply as with the walls. Overlap or tongue & groove doors will be flimsier and more likely to warp than solid doors. The words "security" and "overlap" combine just as well as oil and water – regardless of the type of lock used a 12mm overlap door panel is easy to break into (a good kick is all you need).
You should also pay attention to door frames. This is one of the first places where problems will set in with cheaper overlap sheds, with frames warping and doors (or windows) not closing properly. Once this happens, it's extremely difficult to do anything about it and water will easily penetrate the interior.
So, look at the detail here. For example, are door frames laminated, or pressure-treated? And are door sills made of hardwood or metal, so they can withstand the passage of damp shoes going in and out? Many GardenLife buildings feature doors that are made from laminated Nordic spruce that offers true strength and rigidity as well as increased protection.
Not a details person? Maybe you should be
Look at the details of accessories and options. Are there secure cylinder lock doors or cheap fasteners or handles that require an optional padlock? Real glass windows – perhaps double-glazed – or just Plexiglass?
Such details could make a real difference to how your shed withstands the challenges of time and weather over the next few years, and therefore how much you still love and use it day to day.
The very best alternative to an overlap garden shed may be too expensive, not everyone's budget would allow for a solid 70mm timber, double-glazed, multi-roomed garden building, and there are always compromises you'll need to make to find a shed that fits your budget.
But if you do want to keep the cost down, it's important to understand the different trade-offs and economies you can make – which ones will prove false, and which ones will still get you a long-lasting and well insulated garden building that will suit you for years to come. Cheap and easy doesn't always stand the test of time.