The vast majority of GardenLife's buildings come with a pressure treated timber base, but one of the fundamental rules for any garden building is that you need firm, level foundations onto which you can secure your base. If the ground beneath the summer house or log cabin is uneven, the screw holes on the walls may not meet up properly, and the walls may distort, with individual timbers opening up or bowing outwards.
Uneven or unstable foundations can store up future problems too. Subsidence may cause timber walls to warp, making doors and windows fall off square. You may also experience problems with leaks and damp.
So, preparation is everything when it comes to choosing the best foundations for a summer house or log cabin, and there are various options available, the main ones being:
concrete
paving slabs
timber decking
Unfortunately each option has its own advantages and disadvantages, so there is no single right answer, and some foundations suit different garden building types and sizes.
Concrete foundations for a summer house?
The usual advice for concrete is to put a 7-10 cm layer of concrete above 7 cm of compacted hardcore. Having the foundations raised slightly above the ground level encourages water to run off rather than pooling around the base of the summer house. If you're planning on buying a smaller summer house, concrete foundations may be a little excessive as you may be able to use paving slabs or decking instead. Concrete foundations are however suitable for larger, heavier timber garden buildings such as log cabins and more sizable garden offices.
Pros: Concrete foundations are permanent, stable and non-shifting – this is especially important for larger buildings. It also allows for very sturdy anchor points to which you can secure the timber base. The concrete can also provide the floor for workshops, storage sheds and garages (which can make the purchase of a garden building cheaper, as there's no need for a timber floor).
Cons: Concrete is not an eco-friendly option as its production causes a significant release of carbon dioxide (a greenhouse gas). Other disadvantages include the fact it is relatively expensive compared to other bases (especially if you have it laid professionally). And finally, it does not allow water to drain away, so the timber at the base of the cabin may suffer damp problems. Nevertheless, despite the problems, concrete foundations are a popular and low-maintenance option for log cabins, and the potential problems with damp timber can be avoided with careful maintenance of the building and sensible treatment of the timber.
Paving slab foundations for a summer house?
Paving slabs can be laid on a base of sand and cement, with anchor points at the corners. The slabs should be evenly laid, and firmly butted together. Having them raised slightly above ground level will help water to run off. Paving slabs are best suited to smaller garden buildings and are not recommended as a foundation option for large log cabins.
Pros: A foundation of paving slabs is relatively easy to lay, and they can make an attractive patio area in front of a summer house or log cabin. Like concrete, they are low-maintenance, and stable, however, they are easier to remove than concrete if you want to redesign the garden.
Cons: Like concrete, paving slabs don't allow water to drain away, so there can be problems with damp if rain pools around the building. However, using wood preservation treatments on your summer house can protect against damp and rot. If the ground below the paving slabs is not stable (if they're placed directly onto grass, gravel or soft soil), they may subside, causing problems with warping.
Timber decking foundations for a summer house?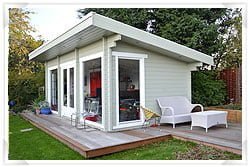 It's possible to build your cabin on foundations made of secure, level timber decking, with a weed-proof membrane between the ground and the timber. The timber must be pressure-treated to withstand damp. Concrete anchor points at the corners can be used to secure the building, or the pressure treated timber base can be screwed directly into the decking foundations. Timber decking is attractive and works well with summer houses and log cabins of most sizes.
Pros: The decking can be used to create a verandah area, so it can look highly attractive. Ridged decking allows water to run off, helping prevent damp problems around the walls of the building. The space underneath the decking allows air to circulate and prevents damp from rising.
Cons: Timber decking may not be suitable for larger cabins. A small area of decking in front of a summer house may not cost much, but to extend decking under an entire garden building (where it will be completely hidden) can push the price up. Even with pressure-treated timber, regular maintenance and wood treatment will be necessary, with an annual wash a treatment with decking oil necessary.
If you are considering purchasing a timber garden building and need some advice on the best type of foundations for a summer house or log cabin, get in touch and we'd be happy to help!