Smartphones and gardening apps are not the first thing to spring to mind when you're thinking about good tools for the garden. But modern technology has made gardening easier and more accessible than ever.
Answers to gardening problems or tips which once required a trip to the library or garden centre are now being carried around in our pockets, just a few taps away.
Here are a few of our favourite gardening apps to fuel your passion for all things green or improve your own patch.
The best garden planning app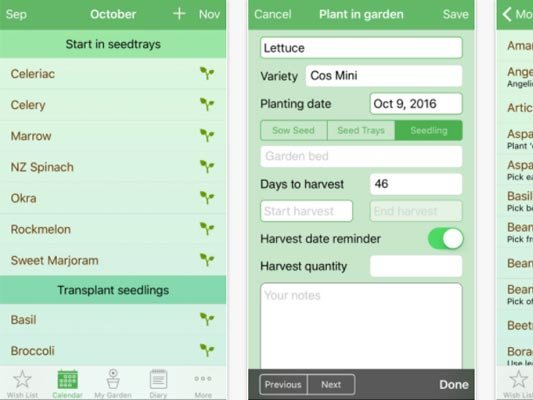 Garden Plan Pro – iOS, £7.99
Many of us have good intentions about growing our own fruit and veg or applying for an allotment, and then don't quite get around to it. The Garden Plan Pro app could be the jump-start you need to get planning, digging, sowing and harvesting.
Don't be put off by 'Pro' in the title – it's aimed at beginners and allows you to create designs and your own '3D' models of your ideal garden to see how it could all piece together – even telling you the ideal spacing for plants, and what plants would grow well next to each other.
What's more, if you enter your location it will give you articles/tips etc for your own climate, as well as send you weather updates (eg a warning of frost on its way), and planting or harvesting reminders.
It's certainly not the only app of its type on the market, but it's a practical and user-friendly starting place.
The best garden scheduling app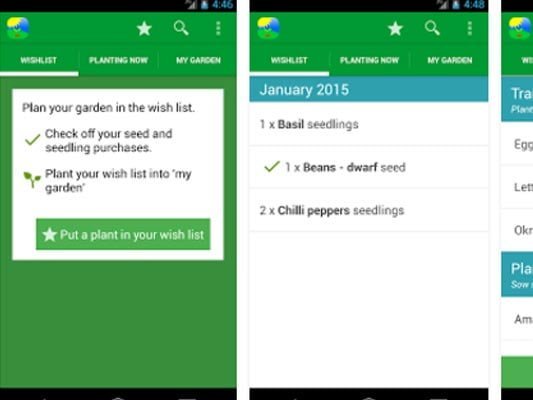 Gardenate – iOS and Android, 55p
Timing can be everything in gardening, especially when it comes to planting and harvesting, and it's one of the most daunting aspects for the beginner.
The 55p Gardenate app helps with this, by making a calendar on your phone with all the key timings – fertilising, feeding and so on – for just about any vegetable or herb you can think of. It also offers suggestions on the perfect plants to invest in depending on your climate and time of year.
The app covers Australia, Canada, New Zealand, South Africa and the USA, as well as the UK, so it's quite generalised. For the UK, it has just two zones – cool/temperate for the north and west, and warm/temperate for the south and east – so the advice is not localised enough for some people's taste. But it's a good general guide, with a simple and lucid layout that's intuitive to use.
Best gardening apps for identifying plants and weeds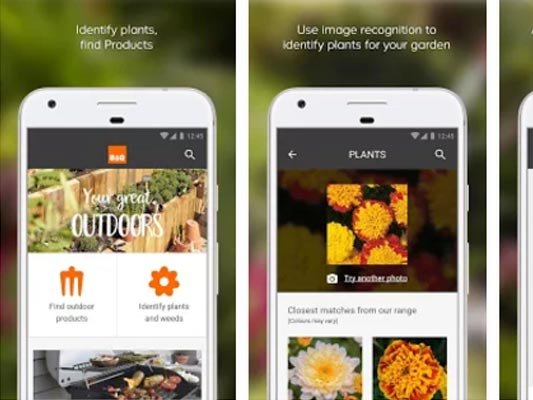 B&Q Gardens App – iOS and Android, free
Not sure whether the thriving plants in your garden should be there or not? The B&Q Gardens app has a tool to help you identify common weeds and learn how to deal with them (using products from B&Q, of course).
There's also an image recognition tool allowing you to take pictures of flowers you like (or that you have in your garden and don't know what to do with), and identify similar ones in the B&Q range.
If you don't find what you're looking for on the B&Q app, there are plenty of other free or paid-for apps that will help you identify a mystery plant by uploading a photo.
Garden Answers Plant Identifier app – iOS and Android, free
Garden Answers app will identify plants from a photo you upload (using a data base of around 20,000 species). It's also useful for novice gardeners as it has an enormous 200,000 strong library of common questions. The app itself is free though if you want an expert's detailed advice on anything, there's a fee.
SmartPlant (previously called PlantSnapp) – iOS, free
Another popular plant identification service, with the option of monthly care advice and reminders, and an ask-an-expert service (though note that a fee is payable for this last feature).
Best garden finder app
National Garden Scheme app – iOS and Android, free
If you're looking for inspiration or just like exploring new spaces, the National Garden Scheme app is ideal. It shows you the location of almost 4,000 gardens open to the public as part of a charity scheme which raises money for nursing charities.
A quick search will show you all your local venues although bear in mind that most require a small entry fee or donation. Some gardens may also sell plants or seeds.
Best gardening app to make friends and influence people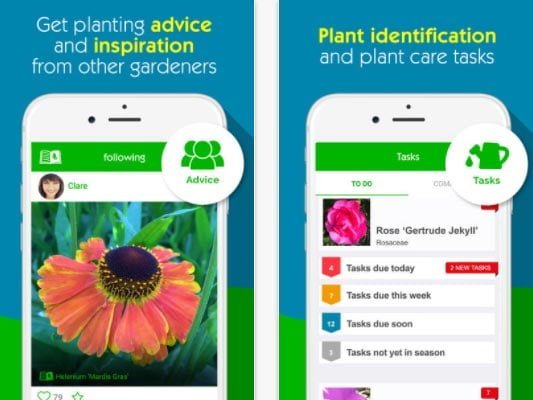 Garden Tags – iOS and Android, free
Seeking to gain inspiration or advice from other enthusiasts? Garden Tags is a community-based app where gardeners share tips and tricks.
Think of it as a social network for all things garden where you can ask open questions or broadcast your progress. You can also play around with other useful features like the built-in gardening encyclopaedia.
Best rainy-day gardening app
English Garden app – iOS and Android, free
A handy digital version of the popular magazine, the English Garden app is ideal for those with a general interest in gardens, irrespective of whether you have one or not.
The app is free, but you have to pay for each copy. A number of other glossy gardening magazines also have good apps – for example, Gardens Illustrated and BBC Gardeners World – they're all very professionally done, though bear in mind that their main aim is to get you spend money on subscriptions or single issues.