Whether you're a total garden novice intending to grow some container plants, or you're 30 years into a passion for horticulture, there are thousands of gardening websites and blogs to guide and/or inspire you. And that's the problem – there are just too many to choose from. So, if you're looking for growing tips for a shady vegetable patch or want the latest ideas in contemporary garden design, here are the best gardening websites to bookmark.
1. No surprises for first place
The source of all knowledge about gardening in Britain is the mighty – and very user-friendly –  Royal Horticultural Society website. We could go on for pages about the different sources of advice on the site, but here are just a few pointers:
The RHS Beginners Guide really does introduce you to the basics, beginning with how to sow seeds, or advice on what containers to use. Also good for both novices and old-handers is the gardening calendar section, giving you advice about what to do each month.
Widely loved in gardening circles is the RHS Plant Finder, one of the seven wonders of the horticultural world. You fill in a few boxes about, for example, the soil type, amount of sun/shade and moisture in your garden, plus what colour and height of plants you want, and it produces instant plant recommendations. Not only that but it tells you how to grow the plants in question, and even where to buy them.
2. Going organic?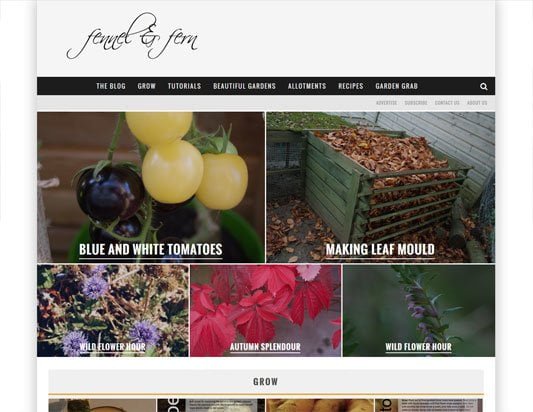 Fennel & Fern describe themselves as "a big happy team of organic gardeners who love the soil under our fingernails and munching on our own homegrown veg" and it's one of the best blogs that GardenLife Log Cabins have come across; beautifully curated, but definitely practical. The main blog is updated each day with new posts; and you can follow the progress of their 'dream garden'. There are guides for growing vegetables, regular recipes, and beginners' tutorials.
Also worth looking at is their Garden Grab site which showcases gardening blogs from around the world. This could also be a channel for promoting your own gardening blog if you have one.
In short, Fennel & Fern are a class act who avoid the common pitfalls of many gardening websites: being too intimidating, too focused on selling, or too home-made.
3. Archived but not forgotten
The BBC gardening website will already be familiar to many, but it's popular for a reason. It has similar features to the RHS site – plant finders, guides on what to do each month, tutorials, and a slightly intimidating series of factsheets on pests and diseases (by the time you've looked at a couple of these, you'll wonder how any plant ever manages to grow).
Although the site has been scaled back in recent years, and blogs and message boards are no longer updated, they are still archived on the site, so there is plentiful material. This includes a great guide to gardening with children with some good activity ideas such as building a wormery, making an indoor cactus garden, or growing a child's initial on the lawn. Although archived, the BBC gardening website has to be included in anyone's list of best gardening websites.
4. One-stop-shop for anything you might ever want in a garden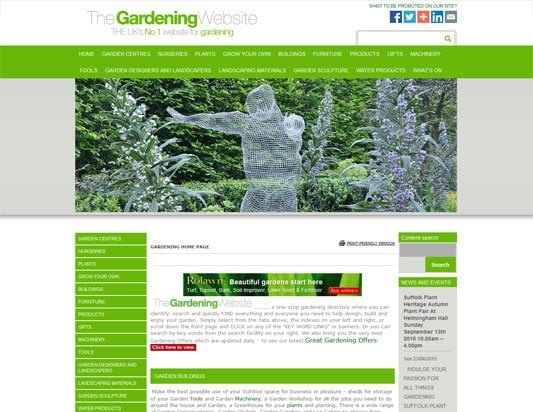 The Gardening Website is a selling website, rather than a how-to website like the BBC and RHS. Some people aren't taken with its scale and design, but it's certainly comprehensive. If you're looking for a specialised dandelion spade, a wide selection of rotavators, or a directory of landscapers or garden designers in your area, this site will take you to where you can find one.
5. One for the indoor gardener
No, not the person who has a house full of container plans, but the person who wants to sit comfortably inside fantasising about their dream garden.
Garden Design is a gardening magazine with copious ideas for, and photos of, gardens around the world, especially the US. It's the stuff of daydreams, but not hopelessly impractical. Alongside tips on gardening fashion, there are good ideas for small or cramped gardens, and suggestions for achieving Luxe for Less.
Garden Design is certainly not the only website with good inspirational photos – we frequently recommend Pinterest and Houzz.com on this website.
6. An antidote to designer gardening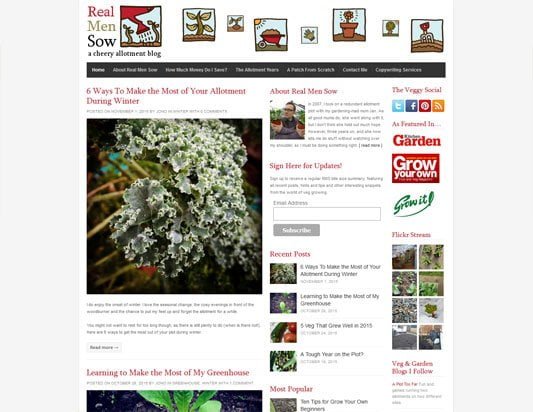 The Real Men Sow blog is far from comprehensive but very likeable, and that's why we've included it in our list of best gardening websites. It's written by a Norwich City supporter called Jono, who had an allotment in Burnham-on-Crouch for five years and is now creating 'A Patch from Scratch' in an overgrown back garden.
Jono started out as a complete novice, and was reliant on advice from his mum Jan (about whom there are a couple of lovely blog posts).
A few years later, Jono clearly knows quite a lot about gardening, but he's kept the cheery, amateur tone of voice. It's a great place for real-world advice, such as tips on how to dig, or where to get free seeds, and there's an Excel spreadsheet on how much money Jono saved by growing his own fruit and veg.
7. And now it's time to get outdoors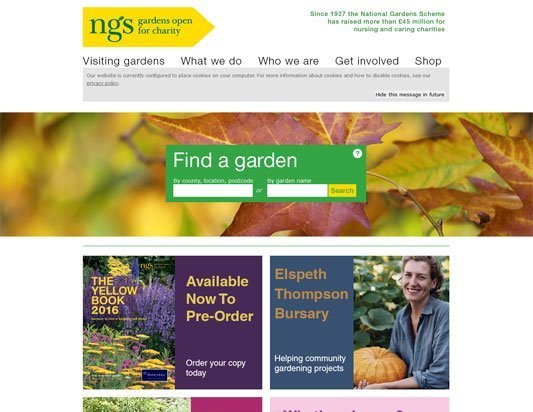 Finally, what better way to generate some gardening inspiration than to get up off the sofa and visit some real-life beautiful gardens? The National Garden Scheme opens gardens  – many of them privately-owned – for charity, and it has donated over £45 million to nursing and caring charities since it was founded in the 1920s.
The website is quick and simple to use: you put in your location, and whether you want to visit a garden today, this weekend, within the next 7 or 28 days or on a specific date, and it will tell you which gardens are open to the public. A great way to get gardening ideas and do some good at the same time.
Hopefully this run down of GardenLife Log Cabin's seven best gardening websites will arm you with everything you need to enjoy each aspect of your own garden throughout the year.