There may be too many property programmes on TV, but the annual Shed of the Year competition, just finished on Channel 4, is worth watching. It's feel-good TV, a tribute to British eccentricity and resourcefulness. It's also a tribute to the joy of the 'project'– whether it's a mosaic of 50,000 shells in an air raid shelter, building a pub in your garden, or pursuing a dream of building the perfect birdbox.
How do you build a Shed of the year?
Many of the buildings in Shed of the Year are self-built, using salvaged materials. But not all of them. The winner of the 2014 Summerhouse/Cabin category was a flatpack cabin, turned into a beautiful 'Caribbean retreat' through paint colours, fabrics, plants and holiday mementoes. So a cabin from our website could be a great starting point for a future Shed of the Year entry.
It could also be a great starting point for a new job, hobby or way of life. As Sid, a shed graffiti artist who won the Workshop category in Shed of the Year 2014, said, 'A shed has given our family a whole lot of freedom … it's a nice lifestyle we've got'. Sid also said, 'Sheddiness is all about being different, individual and quirky'. And even if you don't have the time, tools or skills to build your own Gothic folly, a flatpack garden cabin can still be unique and personal.
Start with flat pack or self assembly
How about building your very own perfect garden bar, for cocktails, home-brew, or family barbecues?
The Cumber flat pack garden bar, with its fold-down counter, can be customised in various styles from beachcomber to 1950s Americana, and our Lochy self build garden pub also has a large serving hatch at the front, and is popular as a garden drinks bar. And one of our customers is using the Lovat summerhouse as an elegant drop-in Pimms Bar at a holiday park.
Or perhaps you have just retired and finally have time to devote more time to a hobby? Take a look at Tweed Extra with windows on eight sides and 360-degree views – it would make a wonderful hide for watching birds and other wildlife in comfort, or an observatory for amateur astronomers. Or Grace, with a large covered area where a shed graffiti artist like Sid could use spray paints without fumes building up, but without having to worry about rain.
Customise an existing garden building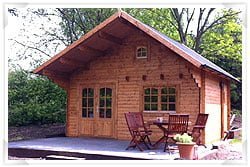 Adding further scope for individualism is the fact that at GardenLife we can customise many of our designs. This includes adding windows, increasing window sizes, or increasing wall thicknesses. We even have a full bespoke design service if you want to personalise further.
So think of the designs on our website as just the start of a process. Just because a design is labelled as a summer house, it doesn't mean you have to use it as one. And if you see a cabin that is almost what you're looking for, but not quite, then ask us about customising it.
And most of all, let your imagination run free. When you see a garden building on a website, it's sometimes hard to visualise how you could personalise and decorate it. So use events like Shed of the Year or the GardenLife Pinterest page for inspiration – whether you prefer the ease and convenience of a flat pack design or want to search in a skip for materials to upcycle, you'll find some amazing ideas.