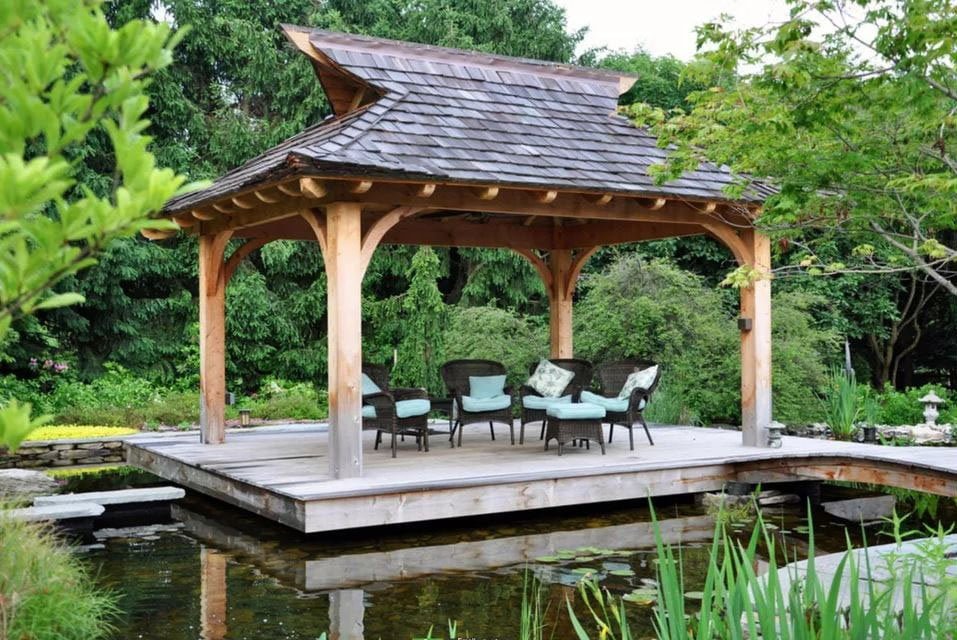 Buying a garden gazebo in the UK
Cheap or quality? Pop-up or permanent? Metal or timber?
Thinking of buying a garden gazebo in the UK? If you live somewhere windy, where rain regularly comes at you diagonally, a wooden garden gazebo may not be for you. But if you live anywhere else, it could be your ideal solution for garden living.
The Americans love gazebos because they provide shade from the sun. In the UK, we love them because they shelter us from rain as well.
They also offer a degree of privacy, without you having to go the whole hog and buy a summer house. That's why gazebos are so popular for garden hot tubs and barbecues. But we're getting ahead of ourselves here. First, let's go back to basics and say what they actually are.
The short answer is that a gazebo is an open-sided garden structure with a roof – a pavilion or summer house without walls. If you want to know the precise difference between gazebos, pergolas, pavilions and the like, there are more detailed descriptions on The Spruce website. But to our minds, there are more important questions to think about:
How can a gazebo help you get more from your garden?
How should you go about choosing a garden gazebo?

Gazebos and garden living
So, let's look at the first question, how could a gazebo help you get more from your garden. We've already said a gazebo could protect you against sun, rain, and curious eyes. You could use it to do yoga, lounge with a good book, shelter a barbecue, sitting or dining area, or provide a covered play area for the kids (that's if the hot tub has not got there first).
In other words, it can turn your garden into an extra living space.
A gazebo can also be a focal point for a garden design – the eye is drawn towards it, but the open sides allow you to see beyond to the rest of the garden as well.
How to choose a gazebo for the weather in the UK
Old-fashioned gazebos were permanent structures, built of wood, brick and/or cast iron. But that all changed with the advent of the 'party gazebo' – lightweight, pop-up gazebos that are now a staple of parties, school sports days, fun runs and anything else that takes place in the open air in the British Isles.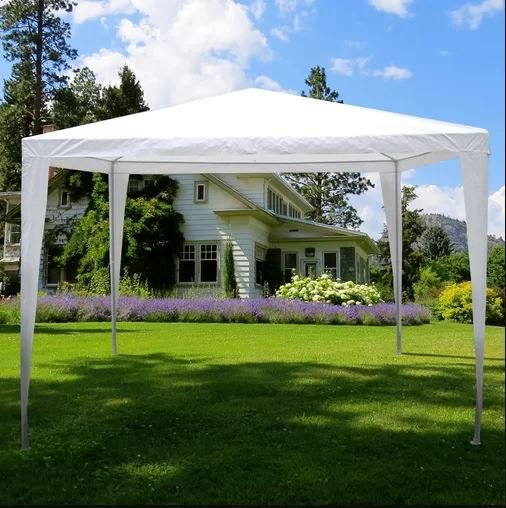 Prices for these start from about £20, though that will likely get you something flimsy that won't survive more than a gust of wind that's typical in a UK summer.
There are also more upmarket and robust versions of the temporary gazebo, with design styles modelled on marquees, safari camps or vintage garden fetes. These tend to cost from £100 upwards, depending on size and sturdiness.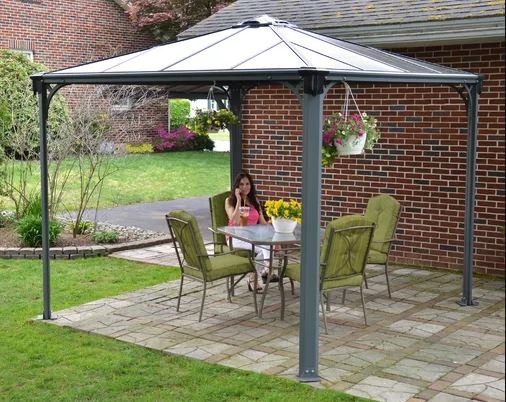 Then you get semi-permanent models – with sturdy aluminium, steel or cast iron supports, and available in contemporary designs as well as traditional. These work well on patios as well as lawns, and may run into hundreds of pounds.
A great selection of different styles is available on the Wayfair website, and there's also a useful blog with reviews of different temporary gazebos.
Permanent metal or timber garden gazebos
What if you want something more robust and longer-lasting, a gazebo that won't blow away or buckle if the wind blows?
If you really want permanence, you'll be looking at bricks and cast iron – like a Victorian bandstand. More feasible for most of us, though, is a high-quality timber gazebo, built to withstand the damp English, Scottish or Welsh climate. Below we look at a few of the factors to think about when buying a garden gazebo.
What you're going to use it for: do you want a completely flexible open space, where you can sit with deckchair or book one day, or lay out a table of party food another day? Or do you want it as a shelter for a hot tub? If you're planning a hot tub, GardenLife sell a gazebo with a back wall that provides extra privacy and shelter from the wind.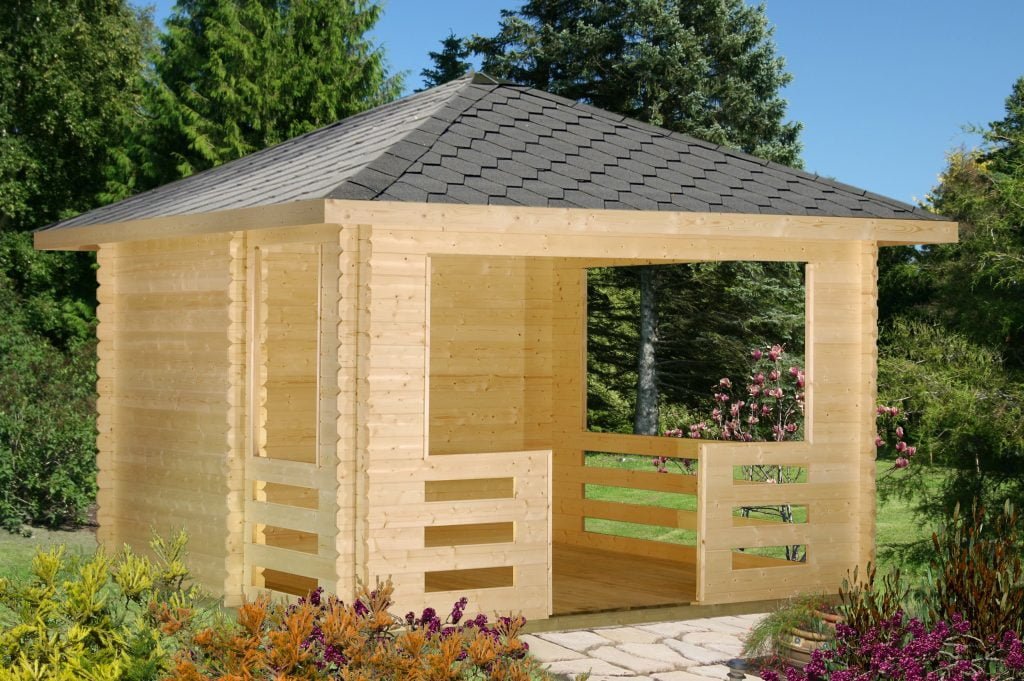 Whether you want a floor: the answer to the above will help you decide this; so will your budget. On some models, the floor comes as optional, so you're free to decide which would suit your plans and price range.
How much space you want: you'll want to balance flexibility vs aesthetics vs budget. And you don't want too big a structure to over-dominate a garden. And your kids won't thank you if you ruin their back-garden football games with a gazebo plonked in the middle of the lawn (though technically the open sides mean it shouldn't stand in the way of a curling free kick).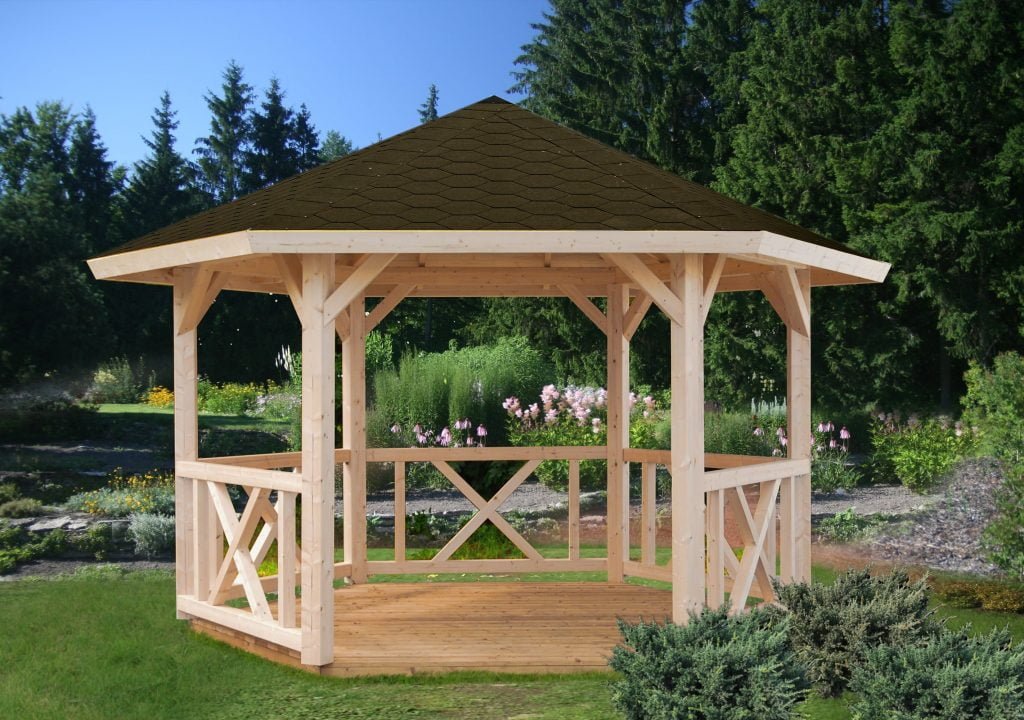 The best shape for your garden: a simple four-sided gazebo is cost-effective and practical but it can look quite plain and functional. A hexagonal gazebo or octagonal shape will look softer and make an attractive centrepoint. If you take a look at GardenLife's Betty gazebo, you'll see for yourself how the same design takes on a very different character depending on which shape you go for.
Traditional vs contemporary: the usual advice is that the gazebo should reflect the style of your home – so a period home gets a period-style gazebo. But don't feel trapped by that – you could set up a good contrast in the same way that a contemporary bathroom style can work well in a period home. However, it's still a good idea to have colour and roof shape blend with the house or other garden buildings. You're looking for a centrepiece not an eyesore.
Whatever style you choose, you'll want it to be as low maintenance as possible. On a timber model, that means looking out for:
slow-grown timber; this has a denser grain than fast-grown timber, so the gazebo will be sturdier and less likely to warp
laminated timber support posts – lamination helps protect against damp, and the warping and swelling it can cause
pressure-treated flooring that's resistant against rot and decay.
When it comes to buying a garden gazebo in the UK, touches like these can make all the difference in terms of finding a durable, long-lasting gazebo that can withstand British winters.