This month we start a series of blogs on garden design for different shapes or sizes of garden, and we begin with a British classic: the long narrow garden.
One person's problem is another person's opportunity, and so it is with gardens. Some people complain about having a plot that's nothing but a boring corridor, others see a long, narrow garden as a chance to come up with a creative design.
We prefer the latter mindset. It's become a bit clichéd to talk about 'spaces' and 'rooms' within a garden, but this works brilliantly with long thin gardens. And their narrowness makes them easier to manage – less daunting than a huge, wide space. So here are some creative tips to get the most out of a long narrow garden design.
Break up your long narrow garden into different rooms
First things first: the essential with a long narrow garden is to break up the space. What you don't want to do is look straight down to the end. Great in a 100 metres track, less so in creative garden design.
Instead, use shapes, plants and structures to create screens. Plants, pergolas, trellises, decking, paving and paths – these can all turn a thin corridor into a series of different areas. There are good tips on this and some sample plans on the Ideal Home website.
Many garden designers prefer these screens to be partial rather than full – letting you catch glimpses of what's beyond, rather than completely blocking off the section behind them.
Plan different garden zones for varied uses
How many rooms depends on the length of the garden and on your lifestyle. A good blog describes dividing a long thin garden into three areas – an area by the house for a quick cup of coffee; a sunken garden; and a screened eating area at the far end with table and chairs.
Clearly, this is not the only possible combination, but it's helpful as a conceptual starting point. Other possible 'rooms' could be: children's play area; vegetable patch; barbecue or hot tub area; or shaded area with bench. Where these rooms go – closer to the house or at the far end – depends on your own preferences.
When designing different spaces, it's advisable to sketch and make a scale plan beforehand to ensure everything (including buildings and other features) will fit properly. The excellent garden design guide on the Garden Power Tools website has good advice on doing this.
Furnish each room within your garden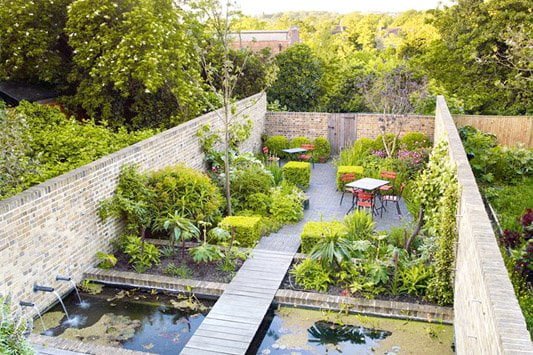 Having thought about a series of rooms, you need to furnish them. Plants, of course, will be critical in this, but garden buildings and furniture will also help.
So far we've mentioned pergolas, trellises and benches. How about going one step further and integrating a gazebo, summer house or workroom into your design?
One common objection to traditional long narrow gardens is that the far end sits unused and unloved. Turning the end into a destination, with a hot tub and gazebo, barbecue area, garden office or extra dining area can transform the way you use your garden.
Planning permission and long narrow gardens
The general situation with planning permission in the UK is that a garden building within 2 metres of your boundary should be no taller than 2.5m at its highest point. Otherwise, you need planning permission.
Therefore, for owners of long narrow gardens, the low-admin solution is to have a garden building that meets the 2.5m rule. GardenLife sell a variety of sub-2.5m buildings suitable for a compact space, including traditional summer houses, contemporary workrooms, storage sheds, playhouses and gazebos.
Design-wise, a rectangular garden building that takes up the whole width of a narrow garden may painfully emphasise the narrowness. So be creative.
For example, a corner cabin can maximise the space available as well as look more interesting than a square-on building. And a modern summer room with tall windows will draw the eyes upwards and distract from the garden's lack of breadth.
Or a gazebo can add interest and weather-cover without blocking the view.
Mind the edges, climbers are better than hedges
With a traditional long narrow garden, it's hard not to miss the edges! If you have beautiful stone garden walls or perfect borders, then lucky you. The rest of us may need to hide an ugly fence which a glance to the left or right can't help revealing.
Trellises with climbing plants (parallel to the edge) can usefully disguise a fence, as can a narrow border. On the other hand, seating and benches next to a fence can draw attention to it.
If you do use plants to screen a fence, be sure to choose ones that will grow upwards, rather than outwards (making the garden narrower). Also keep edges neat and trimmed back.
Gardens are not just for summer
When planning your design and planting, imagine what the garden will look like throughout the year. For example, how will your screens of plants look if they have no foliage in winter?
Good tips for a four-seasons approach to planting in a long narrow garden can be found in a detailed, but useful, article on House Beautiful. A simple rule of thumb is to mix deciduous and evergreen plants throughout the design for your garden. Even in the bleakest of winters you can then still enjoy some greenery.
Plants are not just an afterthought
One problem with garden design approaches based around 'rooms' and 'spaces' is that they sometimes forget about the plants and purely focus on textures and space. Decking, paving, gravel, paths, walls, ponds, trellis, pergolas and garden buildings can all enhance a long narrow garden, but without some creative planting it will look lifeless.
With long thin gardens especially, plan your plants from the outset – thinking about size and the shade they create (and need) as well as what might grow well in your garden. If you're new to choosing plants (and making them thrive), this Garden Power Tools post will tell you all you need to know.