How many times a year do parents suggest – vainly – that their kids take a break from the screen and go out into the garden? Enough times for most of us to lose count. But one reason why gadgets win out over gardens is that most of our gardens just aren't that child-friendly. Parents often think that a child-suitable backyard involves a plain expanse of grass with minimal plants to be crushed or decapitated by footballs and other missiles. But, if you think about it, even the most imaginative child can't do much with a bare lawn.
So, if you really want to get the kids out into the garden, try some of the following.
Break up the layout
The best kids' gardens are broken up into different areas. Screens, trellises and hedges can create different zones for hide and seek or dens. Children like having their own "secret" places in a garden, where they can retreat from parents or siblings, or hold court to their toys, and you don't need a large garden to achieve this.
Add play spaces or equipment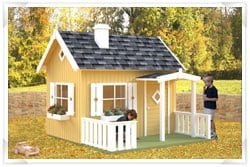 Timber play equipment, trampolines and play houses make the garden more attractive to your children and their friends, and there are affordable cabins to sort all ages – from storybook-style playhouses for younger children, to games dens for teens. The great thing about sheds, summerhouses and cabins is that they can evolve with your children – from Lego or doll space for a seven-year-old to a party or games room for sixteen-year-olds.
Invite in some wildlife
Wildlife makes a garden more interesting to most children. Birdfeeders can attract birds, and small damp corners are excellent for mini-beast hunts. Plants such as buddleia, lavender and asters (michaelmas daisies) attract butterflies. For a more examples of butterfly-friendly plants, check the Royal Horticultural Society website.
Even dig up the lawn?
The problem with grass is its inability to survive football games, bowling practice or rugby tackling – at least long-term. So parents with sports-mad children may consider artificial grass. It won't turn brown halfway through summer, or into a mud patch in winter. And premium artificial grass even contains different shades of green, making it look realistic.
Don't be too precious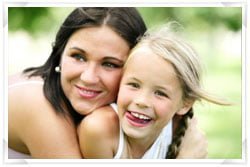 Put yourself in your kids' shoes. You've been forced to turn off the TV, and cajoled into playing in the garden. But at the first kick of the football, a parent shouts at you to "Watch out for the plants". It's not exactly a recipe for good times. If you do want to plant precious shrubs or delicate annuals, then go back to the zone idea: let the children have free rein in most of the garden, in return for having a no-go zone where you can grow things.
But do be safe
Steer clear of plans like laburnum, lily of the valley and foxglove, which are extremely poisonous.Other common plants can also cause stomach upsets, or irritate skin or eyes – if you want to know more, there's information on websites like the Royal Horticultural Society (www.rhs.org.uk).
Have a garden storage shed or chest where you can lock garden tools, lawnmowers, fertilisers and pesticides well out of reach of children. And if you do use chemicals such as pesticides, then never use the same watering can that you use for watering or that children may use.
When installing play equipment, follow guidelines about safe surfaces, falling distances and 'fall-out' widths.
Sandpits are a wonderful thing, but not if they become the chosen litter tray of the neighbourhood cats. If you do have one, make sure it is fully covered when not in use.
Hopefully some of these useful pointers will help you to design a child-friendly garden that the entire family can enjoy!