'Flat pack', 'self build', 'DIY kits' and 'self assembly' are all-encompassing terms. They cover extremes such as a simple piece of flat pack furniture bought from the local DIY store, or an entire kit-house that you are expected to build from the foundations up.
The same vagueness applies when we talk about self build in the context of garden buildings, such as sheds, summer rooms or a garden office. It could refer to a self assembly DIY kit (complete with detailed instructions and pre-assembled parts), or, at the other end of the spectrum, to something you design and completely construct  yourself (without any assistance or technical support).
We've seen some beautiful examples of the latter – from rustic log cabins in Estonia and the US, to miniature Gothic follies in British back gardens, but complicated self build projects take time, patience, and pretty advanced woodworking expertise. But because of the DIY skills required for self-build-from-scratch, we've also seen a few disasters too – from self-designed bike sheds that crumple at the first sign of high winds, to draughty self-built summer houses with warped doorframes and leaking roofs.
For most people, therefore, 'self assembly' is probably the most practical approach to building your own garden summer house. You're more likely to end up with the garden building you daydreamed about, without the problems that can emanate from selecting the wrong timber, fittings, joints or design.
How do self assembly garden buildings vary?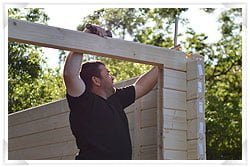 There's a huge choice of self assembly garden buildings nowadays – including summer houses, pavilions, garages, and gazebo DIY kits. They come in flat pack form, for ease of transportation and delivery, and are designed to be assembled by people with an unremarkable level of DIY experience.
The contents of these kits vary from supplier to supplier however, so it's important to check what you actually get, the level of DIY experience that you need, as well as the tools for the job. And different designs may require different levels of expertise and manpower – assembling a timber carport DIY kit is a different kettle of fish from erecting a multi-room holiday cabin, where several people may be required for the job.
It's unwise to generalise across all self-build kits for garden buildings, but to take the example of a typical self assembly garden room design from GardenLife, the kit would include:
foundation joists, pressure-treated to protect from moisture and decay, and roof purlins
wall logs, roof and floor boards, all pre-cut to the correct size
door and window frames, again cut to the correct size, as well as windows and doors with hinges already fitted
all fittings necessary for the assembly, including fixing materials, locks and keys, door handles
easy-to-understand instructions for the build
Depending on the design of the garden room, the DIY kit may also include other elements such as storm braces, roof shingles, metal door sills and metal water gutters. This means that there's no need to worry when you see the terms 'self assembly', 'DIY kit', 'flat pack' or 'self build' on one of our products; they really are designed to be built by people with basic DIY skills and tools.
If you're still unsure about tackling the installation of a garden building, don't worry. GardenLife Log Cabins also have a range of even easier-to-assemble garden rooms, which are modern, modular designs. These are constructed from Quick Fit framing and cladding, which are supplied pre-assembled. You can watch a video showing how two people assemble the fairly limited number of parts in one of these buildings.
What's
not

included in a GardenLife self assembly DIY kit?

Another way to look at self assembly is to ask about what's not included. A GardenLife self-assembly log cabin takes care of most of the difficult thinking such as: how to design a building that will survive British wind, rain and damp for year after year; what's the best type of timber, screw or door hinge; or how to construct a timber roof when you've never built a shed before. But there are still some things you need in place already:
a basic tools, including drill, screw driver, spirit level, hammer, saw and a step ladder
wood preservative treatments, so you can treat the timber as soon as possible
depending on the roof type, possibly some Soudal roof sealant (normally under £5 from any good DIY store)
someone to help you erect the cabin, since we usually recommend that two people are needed for the construction
And if you don't have those things, or are not sure about any of these elements? The answer at GardenLife is to talk to us. We can advise on foundations, wood treatments, which self build design would probably suit your needs best, and any other questions and issues.
We also offer our own construction service, if you want to omit the self-assembly element. Our team can do all the graft of assembling your summer house or garden office kit, and can even in some cases customise elements such as wood thickness, doors or windows. All you need to do is get in touch.