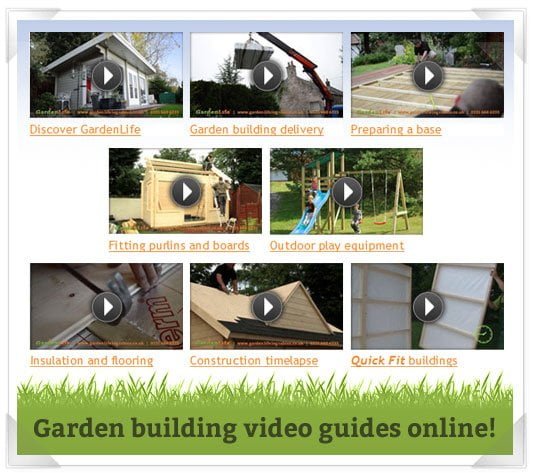 Garden building contruction video guides now online
When it comes to buying online it's not possible to get a real feel for the item that you're interested in purchasing. That's not so important with some things, but when it comes to understanding the quality, materials and construction of a timber building, summerhouse, garden room or log cabin, getting detailed information and advice is a must.
In addition to the photos, descriptions, specifications, PDF manuals and FAQs on the GardenLife website (not to mention the wealth of information in the heads of our knowledgeable staff available on 0131 660 6333) GardenLife has added a range of garden building contruction video guides to help showcase even more of the details our garden buildings.
These helpful video guides cover the delivery of a garden building and how to unpack the parts. When constructing a summerhouse or garden building getting the base right is of vital importance, so we've also showcased that. Another video guide shows how the easy fit tongue and groove timbers fit together and how window and door frames are slotted into place.
Construction video guides also cover roof elements such as fitting roof boards and making a summerhouse water tight by adding felt shingles, as well as installing insulation and floorboards to keep the building warm. We've also included a video that highlights how our modular Quick Fit buildings are constructed too (ideal if you're not so good at DIY).
We hope to be adding more garden building contruction video guides in the future, but as ever, if you have any questions or comments just get in touch with us.