Put off garden decking ideas by 1990s TV garden makeovers? Don't be, it offers unique and creative design possibilities, many of which you won't have ever considered.
Garden decking has become a victim of its own success over the past few years – the subject of so many late 1990s TV garden makeovers that garden designers adopted a sneer whenever they heard the word. And that's a huge shame, because decking can be used to create brilliant garden designs – practical, affordable, creative and interesting.
With winter greatly reducing the number of other parts of the garden requiring attention, now is a great time to think about decking. Indeed, looking out the window at an under-used muddy back garden could well provide the incentive to use decking to create a more inviting space. Just make sure you wait until the rain stops before installing it – otherwise you may face an epic battle with mud and damp wood.
Here are some ways you can use traditional garden decking to give your plot more interest and functionality.
The classic garden decking BBQ and patio area
This is the best-known use of decking, so beloved of the TV makeovers. There it was used because it was quick, cheap and cheerful – easier to accomplish in two days than actually growing something.
Decking is certainly easier and more flexible than paving or concrete. And it's ideal for creating a level surface in a sloping garden.
But decking is not just a matter of easy answers. Pinterest has beautiful ideas for using decking imaginatively, and garden writer Anna Pavord recommends getting creative with the colours of decking – looking at shades such as "watered-down green", soft grey or "patchy olive green", set off by contrasting flowers in pots. Using decking diagonally or at different angles can also look brilliant.
Vertical garden decking ideas and zoning
Decking need not be limited to the ground – incorporating it vertically into your garden walls can make urban gardens feel more natural, and softer on the eye. And different woods can create different moods – for example, cedar can introduce a Japanese feel.
Decking – horizontal and/ or vertical – can also be used to section off a particular area of your garden or patio, for example to create a raised lounging, play or al-fresco dining area.
Lighting can be integrated into floors and walls – for example, uplighters put into paths and patios for security; downlighters put into decking walls; or LED strips hidden under decking edges. You'll find some tips and ideas for this at www.exteriorlightsuk.co.uk and www.philips.co.uk.
Speakers can also be set into the woodwork, as can sofas and benches. Planters or trellises can also be incorporated into vertical or horizontal decking designs if you want to break up the wood with some greenery.
Decking or wooden rails can also be used to create a roofed area or pergola, offering some shade and creating beautiful shadow effects. The trick here (as with decking walls) is to think about the spacing of the wood – too close together and the area may look like a sauna.
Garden decking foundations and structures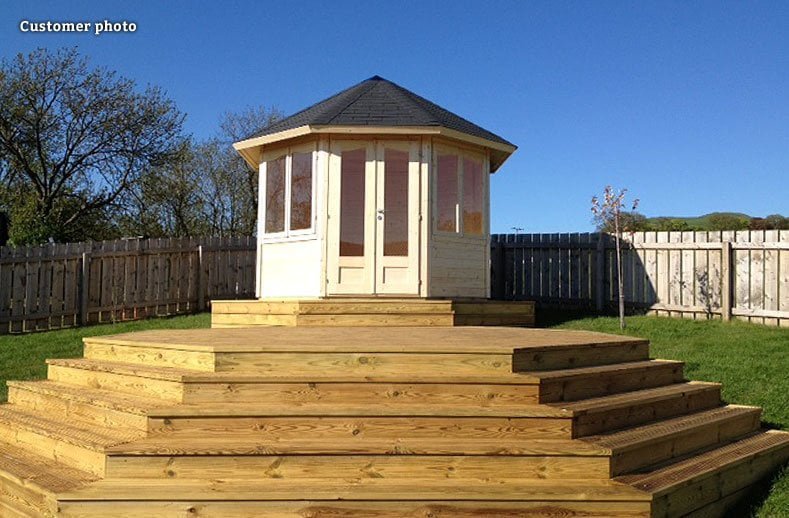 At a practical level, decking can be invaluable if you're thinking about installing a garden building. Using it around and underneath garden sheds, storages or summer houses will not only raise them and create a vantage point, it'll also protect against damp and insects.
Here too, you can be creative, using colour, material and design to contrast or blend with anything from a garden workroom to a gazebo.
You can also combine decking with other structures – from wooden storage units to raised beds or wall-mounted planters – to create interesting textures and surfaces.
Garden paths made from decking?
One reason why decking got a bad name is that people simply ripped out whole lawns or borders and covered them over with an expanse of monotone wood. It's not just the aesthetic effect people bemoan here; there are warnings that covering over gardens with paving or decking can exacerbate flooding or remove wildlife habitats [PDF].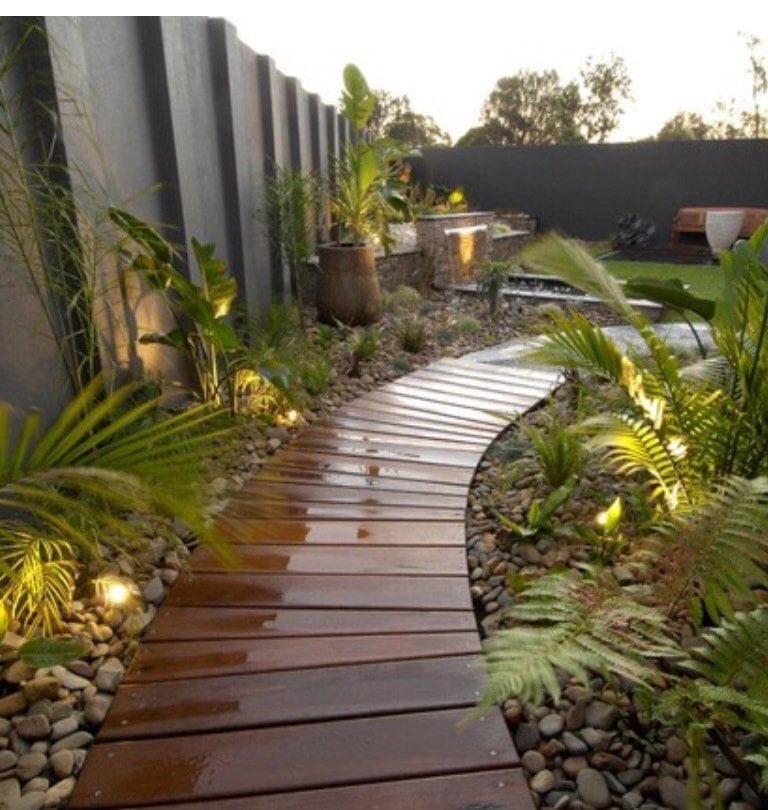 Buck decking can be used more sparingly to make paths, either raised or flush with the lawn. Not only does this prevent a well-used path across a lawn from becoming a bog, it also create a pleasing 'journey' effect that breaks up a space, and is a nice modern substitute for stone or gravel.
Different types of decking materials
The cheapest decking option is usually a pressure-treated softwood, such as pine, available from around £25 sq m. Cedar and redwood are also popular – though more expensive softwoods, with some natural protection against rot and insects. These are usually somewhere from £25/m².
Hardwoods such as oak or teak, although more expensive, are more durable and aesthetic. When buying timber, look for Timber Decking Association-approved wood which tells you it's of a decent standard.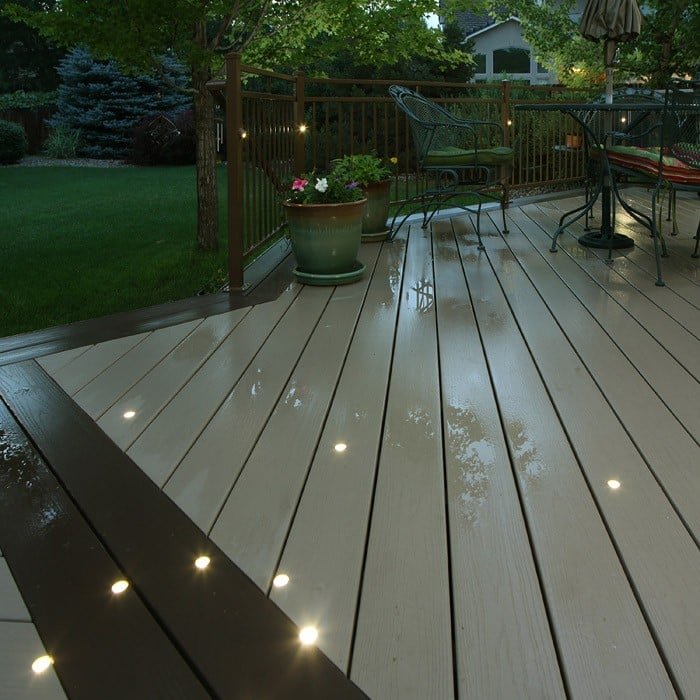 And then there is composite wood decking – a mixture of wood particles and plastic – which is weather-resistant and hard-wearing but doesn't look like real timber. There's more advice about choosing your decking material available on this website.
DIY garden decking ideas – the practicalities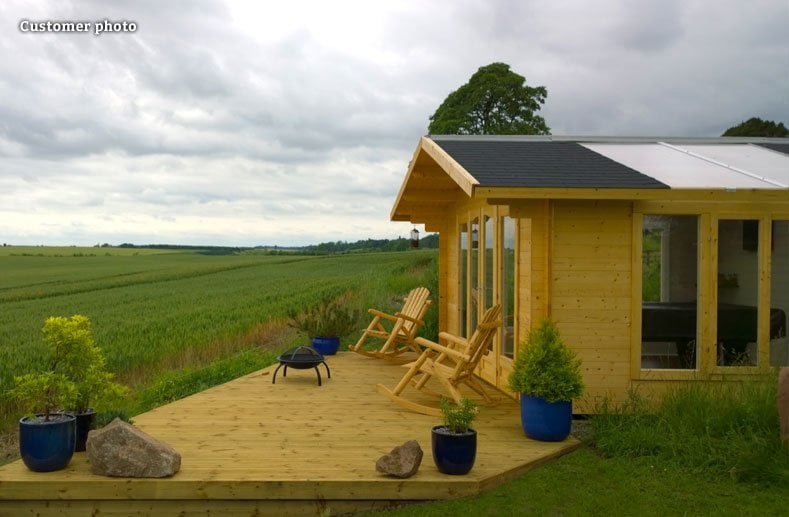 In terms of installation, there are plenty of basic DIY guides online. Useful ones include:
Larger or sloping areas will likely require professional installation – setting you back in the region of £500 or thereabouts – and will probably require planning permission if above 30 cm high. It's a long-term investment though, given that you maybe able to get 3 decades out of good quality decking.
With all wooden decking, there are practicalities to think about. If neglected, a decking path may turn into an ice rink in the winter months, fitting it with chicken wire could be useful. There are also anti-slip solutions from providers such as Gripsure and Deckwright, which can prevent damp decking from turning into a slippery, slimy health and safety hazard, and are readily available in DIY chains.
And finally, on the maintenance front, all types of timber decking will need to be cleaned, sanded and resealed every year or two. For basic cleaning – preventing or dealing with the dreaded algae – there are plenty of cleaning products available in DIY stores. There are some eco-friendly cleaning recommendations on the Amatuer Gardener website.