An unloved summerhouse is a very sad sight. A vintage look is one thing; flaking paint and greying wood are quite another. Giving a shot of colour to a neglected summerhouse is a great way to refresh your garden and give it a new focal point. It will also prolong the life of the timber.
Wondering how to look after a summerhouse? Well, if you're breathing new life and colour into a garden building, you need a blank canvas. Remove any algae, lichen or fungus with a fungicidal wash, then strip back existing stain, paint or varnish to the bare wood. You can now think of your summerhouse as 'new' and treat it much the same as a newly-bought one.
The best way to treat timber garden buildings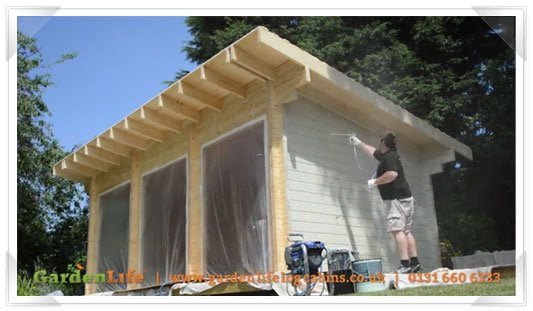 When you buy a softwood garden building, treat the timber with wood preservative as soon as possible. If you're erecting the summerhouse or garden room yourself, treat the floorboards before you build it, especially the undersides. Doors and windows should also be treated in advance.
The rest of the garden building should be treated as soon as possible after you erect it – both outside and inside. Untreated wood turns a grey-ish colour, and is vulnerable to rot, decay, mould and insect attack. Wood preservative prevents this.
GardenLife recommend products such as Cuprinol Trade Wood Preservative, available from good paint and DIY shops. Always follow the instructions on the tin about application, number of coats and drying times. Pay particular attention to cut ends and joints, and don't start the treatment when it's threatening to rain. Once the preservative is dry, you should paint, stain or varnish your summerhouse to protect the timber from sun and rain.
Should I paint or stain my summerhouse?
If your garden building is constructed from good-quality timber, a translucent wood stain lets the grain show through and looks more rustic. But if the timber is nothing amazing and you're more interested in colour than the wood underneath, an opaque paint should serve you well.
Butinox has a great range of wood stains and paints, which are ideal for the smooth, finished timber of the GardenLife range. They also give excellent protection for old and new timber. The translucent stains (Butinox 1) come in a wide range of wood colours, from pale Yellow Pine and Sugar Maple to Black Walnut. There are also attractive dark green and blue stains.
Butinox 2 is a range of opaque stains, from a great chalky white through various yellows, greens and blues, to ebony. There's an oil-based range (Butinox 3) in the same colours, suitable for brick, stone and concrete as well as wood. You need to use a primer with both Butinox 2 and 3.
Other ranges suitable for cabins include Dulux Weathershield Aquatech, and stains and paints by Sadolin and Sikkens. It is really important to use products that are suitable for cladding, and not just exterior doors and windows. There are also some specialist eco-friendly wood preservatives and stains on the market, which we'll discuss in a future blog.
What colour should I paint my garden building?


When thinking about colour, decide whether you want your summerhouse to make a statement or blend in with the background. If you have shrubs and trees, dark green camouflages a garden room (useful if you have an old building you don't particularly like). Grey-green and grey-blue look sophisticated and classic, whilst pale greys, creams and stone hues are very 'New England'. White can look dreamy on a bright summer day, but somewhat washed-out in a British autumn.
Sky blue is summery and retro, especially with Cath Kidston-type prints, but too beach-hut for some gardens. Ditto with pastel pinks and yellows, which may be perfect for a children's playhouse, but aren't exactly chic and sophisticated.
If you're really planning to make a statement – with anything red or purple –don't do it on impulse. "Vibrant and quirky" may pall after a few months, and may also arouse feelings of rage among the neighbours!