Hygge garden design? The lagom garden concept? Transform your garden in 2018
No, they're not names of shrubs, but Scandinavian lifestyle trends. Hygge's probably the best known but forecasters say that lagom, ikigai or even còsagach could well displace it in 2018.
Because each word encompasses a concept that crosses over anything from wellbeing to design, to eating and drinking, to how you spend your free time, they really could transform your life as well as your home or garden.
So, we'll do a whistle-stop guide to what each concept means, and then we'll give you ideas for incorporating them into your own garden.
Hygge garden design?
Hygge is Danish, and it's all about the idea of coziness, conviviality and being comfortable in the moment. It's opened a way for a range of self-indulgences, from drinking hot chocolate with friends, to homes filled with cashmere throws and a wardrobe to match. Being Scandinavian, there's a sense of moderation and good taste around it, though – think contentment rather than mad-for-it hedonism.
Hygge's easy to visualise inside a café or country pub, but do you get hygge into a British garden – particularly as the chill winds of winter blast through the gaps in your fence?
Think garden buildings. Natural timber, well-insulated from storms and winds, a snug space away from household chores and the stresses of work – a timber cabin could be the perfect hygge addition to your life.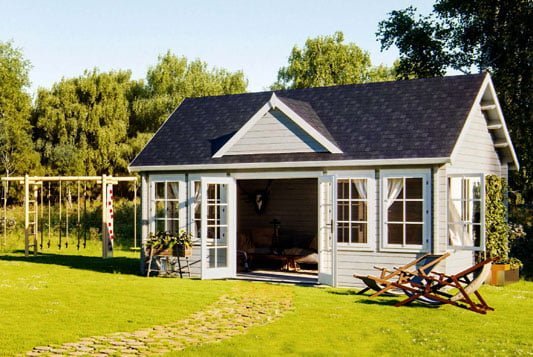 A great example of hygge cabins, on an affordable budget, is our Claudia pavilion – with windows on three sides to let in natural light; dense Nordic timber to keep out the chills; and a space that's cozy without being claustrophobic.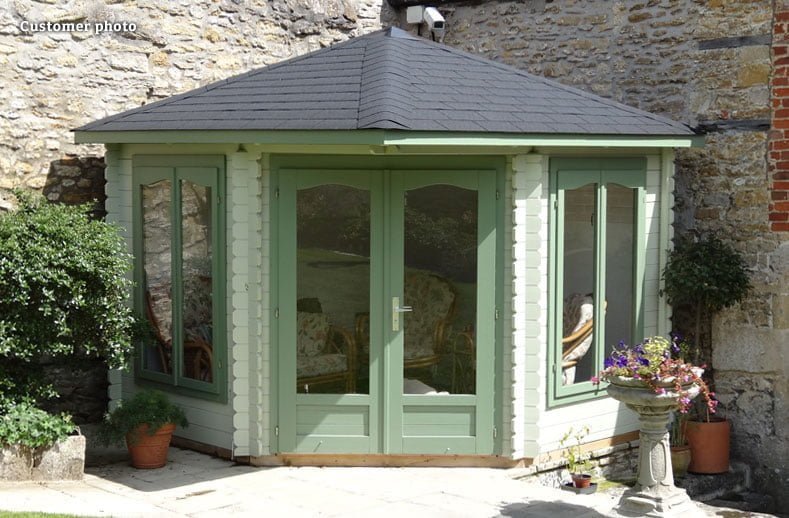 Another perfect retreat is Melanie – a clever shape that fits into a corner in your garden, with light coming in on three sides – but not Arctic-style draughts, thanks to double glazing. It comes in a choice of two sizes, so you can choose how many people who want to get hygge with. The larger version of Melanie (9.6 sq m) has 44mm wall timbers – idea for keep cosy whatever the winter weather.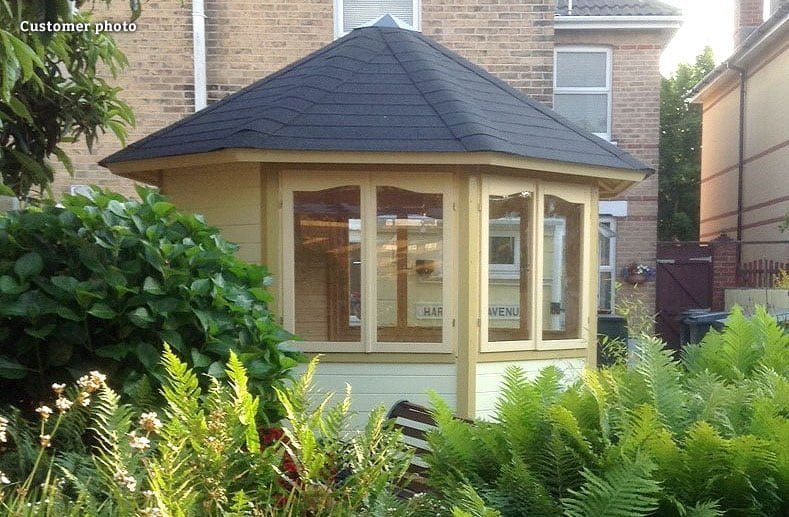 And then there's Veronica. With an octagonal design, it is reminiscent of a sauna hut, but the double windows allow in more light – giving you a connection to the outdoors, and making it great for summer use as well as a space to hide away in during winter. Like Claudia, it's compact, so it won't eat up too much of your lawn or borders, but with 6.7 sq m of space, you're still have space to lounge over your fika (Swedish for a coffee with a cake or pastry and preferably a chat as well).
If you want to go full tilt for the sauna vibe, how about a Scandinavian barbecue hut like our Eva design (customer photo just below), with bench seating around the edge, a BBQ grill and smoke extraction hood, and 44mm insulated walls to help keep everyone toasty all year-round?
The lagom garden concept?
Before getting too wholeheartedly into a daily fika habit, it's worth thinking about lagom, another lifestyle trend for 2018. Lagom is used in many different contexts, from eating to ways of doing business to eating to lifestyle choices, so there's not one-translation-fits-all. The general idea is "everything in moderation", avoiding excess in anything from work to play to diet to being too 'Me, me, me".
So, how does this translate into garden design and garden buildings? Rather than letting work, commuting or retail consume your 2018, how about finding a garden refuge where you can be healthy, happy and content – whether spending more time with family or friends or taking up a new hobby?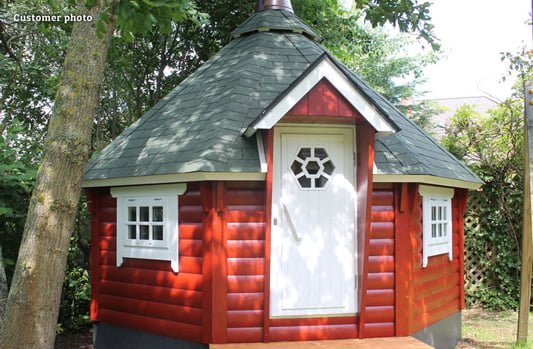 Another element of lagom to incorporate in your garden is the design aesthetic. For example, the classic stripped-back Scandinavian colour palette of chalky matte paint, milky whites, blue-greys, and stone, spiced up with small splashes of dark red, brick or yellow, is very lagom, and would work beautifully with any of these garden buildings – both exterior and interior.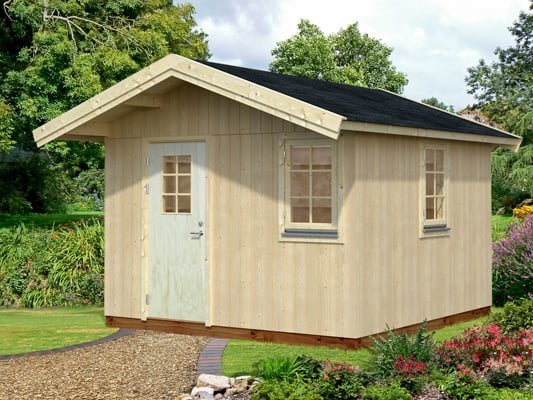 We also sell a selection of easy-to-build models whose design is Nordic-influenced. Hedwig is a Quick Fit design inspired by Swedish summer houses – simple, sturdily built, pastoral. Add some red paint on the exterior and you could be in a Scandinavian forest or island.
For a more urban and contemporary aesthetic, take a look at Ly. Spacious (with 10.2 sqm of floor space, or 13.6 sqm of space if you go for the largest model) but still Nordic-influenced in its functionality, comfort and pared-back aesthetic. It makes a great office or workroom – the placement of the windows means you get plenty of light without being on display.
An ikigai garden?
Another trend for 2018 is the Japanese idea of ikigai. This is less about interior design, more about how you live your-life. As with lagom, it's difficult to find a direct translation, but suggestions range from 'self-realisation' to 'what gets you out of bed in the morning'. It's about what gives meaning to your life, and according to the Wikipedia guide to ikigai, this could be anything from work to having children to hobbies.
To our minds, there's no doubt about it: ikigai means having a shed. Or man/woman-den, garden building, workroom – call it what you will. You could use it as creative studio, gym, brewing shed, games room, or a garden office to start the business you've long daydreamed about.
A timber cabin like Ines can be perfect here – it's an elegant design, with clean lines and no over-the-top design details, and we've heard of people using it as anything from an extra living room or breakfast room, to a garden gym or yoga retreat. With 44mm walls and double doors that open wide, it can be as snug or airy as you wish.
Getting "còsagach" in your garden?
Our final word for 2018 is còsagach. Announcing it as a lifestyle trend for the year, VisitScotland translated it as snug or sheltered, and encouraged businesses to create environments that "induce a feeling of warmth or cosiness".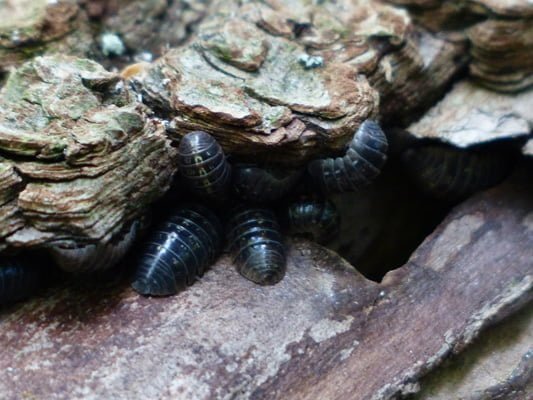 Unfortunately, the choice of còsagach also reminded us of the dangers of adopting hard-to-translate foreign-language words as lifestyle themes. VisitScotland's advice aroused a backlash from Gaelic speakers who said còsagach in fact means 'a damp mossy place' or 'a wee nook or hole such as very small creatures might live in' – one person mentioned woodlice.
Not something to aim for when you're choosing a garden building; best stick with hygge garden design or the lagom garden concept!