Too much stuff? What you need are some helpful ideas for self storage solutions and other alternatives.
Lots of stuff; but not lots of space. It's a growing problem for many of us, as modern flats and houses get smaller, and the number of things we accumulate grows ever bigger.
And however good our intentions to de-clutter and get rid of possessions that don't 'spark joy', it's difficult in practice. It seems heartless to throw away children's artwork and old wedding gifts; and downright stupid to rid yourself of all your winter clothes because you don't have enough hanging space.
So, for most of us de-cluttering is more about finding cost-effective self storage solutions than divesting ourselves of the stuff we own. But what are the best self storage solutions, and what are the realistic alternatives?
Self storage solutions: size, cost and extras
Self storage units are long favoured by students, urban renters with a lack of space, and people moving house. They're affordable, flexible, and increasingly accessible. And certainly more manageable for most people's budgets than renting or buying somewhere bigger to live.
In the UK, self storage units tend to range from a tight 2.25 sq m (the size of a small garden shed) to around 15 sq m (roughly the size of a double garage). If you're renting on a short-term basis, expect to pay upwards of £10 a week for the smallest units, rising to £50-plus a week for 15 sq m. But price will vary significantly depending on location, size, length of contract, and the type of unit you want.
Many self storage units offer additional features such as 24-hour access, van hire, air conditioning, lighting, forklifts for heavier items, and CCTV – expect to pay extra for these. Committing to a longer contract can reduce the price per week, and it's worth shopping around.
There are plenty of online storage comparison sites, which can tell you your local options and give ballpark prices. Compare The Storage and Storage Price Comparison are both useful here.
And if you want generic advice about using the best self storage solutions there's good advice and FAQs on the Self Storage Association website.
Self storage isn't a solution for everyone
Self storage is burgeoning, but there are downsides too. Location, for a start.
Given that self-storage units are usually contained in vast warehouses, you may have to drive to an out-of-town industrial park to access your stuff. Problematic for rural or urban dwellers, or those without a car.
In addition, the interiors can be labyrinthine, confusing or a depressing place to spend a Sunday morning, and the quality and convenience of the storage can vary widely.
So, on what's on the menu if you want to keep your things closer to home?
A home extension instead of self storage?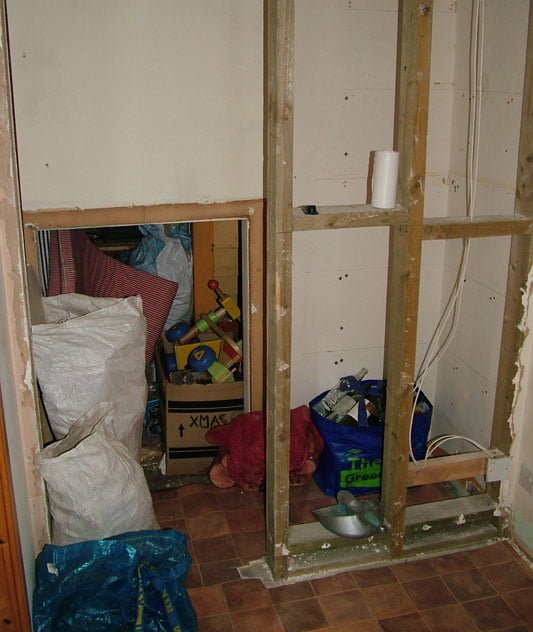 If you can't shrink your stuff, you need to grow your space. Option one is a home extension. You probably know all the pros here – adding value to your home, getting exactly the storage and living space that you want, in a style that fits your taste, and makes the most of modern building efficiency and insulation.
That's the upside. You're probably just as familiar with the cons – the upheaval, the planning processes involved. And the costs.
As with most self storage solutions, the costs of an extension will depend on location, size, materials, single-storey or double-storey etc. The rough rule of thumb for extensions used to be around £1,000 per sq m for a single-storey extension, but the Design For Me website (which has a useful price estimation tool for extensions) suggests more like £1,200-£2,000 per sq m.
And that doesn't include professional fees, fittings, unexpected costs and overruns, and all the rest.
Garden storage solutions – easier on the pocket and your patience
Option two for extending your space is to think about garden sheds, workrooms, garages and offices. They're a much cheaper and more flexible alternative to an extension, and may cut out the need to go through the planning permission process. And you still get to store your stuff securely and close at hand.
If your idea of a garden building is still a one-person potting shed, it's time for a rethink. You can now find attractive garden buildings for storage (or living, working or entertaining) measuring anything from 4 sq m to a whopping 25 or 30 sq m, in any style from Dutch barn to contemporary urban garden office. They are all designed to be built by those with even the very basic DIY skills too.
Price-wise the garden building option comes out well when compared with both long-term self storage and home extensions.
Take self storage solutions. Let's say you pay £50 a week for 15 sq m of self-storage, or upwards of £2500 a year. And then let's say you look at a solid timber garage or garden workroom at around £4,000, with 19 or 20 sq m of space – not only has it paid for itself after 2-3 years, but you also have a flexible asset in walking distance of your own door.
If it has outlived its usefulness as a storage space, some minor fixes can turn it into an outdoor office, children's den, extra living room or whatever else takes your fancy.
What to look for
If you're going to store your precious possessions in a timber garden building, you want them to stay safe, usable and in great condition.
So, whilst saving money (compared to an extension or a self storage solution) may be the motivator, don't cut cut your budget at the expense of durability, weather-proofing and security:
Buying a cabin with thicker chalet-cut tongue and groove cladding will provide a more robust solution than cheaper sheds with overlap cladding
Slow-grown timber is denser and more robust than quicker-grown timber. Look for wood grown in Nordic countries, since the denser grain will make it less likely to warp, twist or split, and will provide better insulation.
Features such as toughened glass and secure locks will help protect your possessions from unwelcome visitors.
Pay attention to suppliers' instructions around wood preservation treatments, and the base to build your cabin on. This will help prevent damp, mould and other weather-related problems.
Check to see if your timber garage or garden room can be dip treated before delivery to better protect it.
With a wide choice of self storage solutions, a home extension, or even a new garden room that you can build yourself, there should be something to match your budget and needs.