Desperate to get your kids away from the TV this half term? Here are some holiday tips
Children of the 1970s and 1980s may remember being forced to watch a TV show called Why Don't You Just Switch Off Your Television Set and Go Out and Do Something Less Boring Instead? Various precocious children (including Ant and Dec) would suggest alternatives such as craft and magic tricks. Their ideas never seemed that interesting.
The 2010s version would probably involve switching off Snapchat or the PlayStation, but otherwise the parental agenda remains similar: enticing the kids away from the screen and into the great outdoors during school half term. GardenLife have therefore pulled together some holiday ideas that parents (and their children) have recommended; hopefully they will be of use this half term, and during future school holidays. So without further ado, here are some ideas on how to keep kids entertained during school holidays:
Best holiday activities for under-sevens
If you want to drag a younger child away from CBeebies, create them their own garden playhouse – some garden canes and a big bed sheet will work a treat, or if the budget allows, how about a wooden playhouse for more prolonged enjoyment? Paint it in the bright colours that bedeck children's TV programmes, and theme it according to the child's current obsession – whether that's pirates or Peppa Pig.
The other attraction of a playhouse is that children can spread out their toys without colonising your sitting room, and spillages won't ruin your sofa. Kids love tree houses too, but not all of us have trees big enough to support one (or the DIY skills to build one). The perfect solution is a playhouse on stilts!
Best way for kids to burn off energy outdoors
Opinions vary about trampolines. Children tend to be enthusiastic, but adults worry about safety. Most accidents happen when more than one person is on the trampoline, so set some basic rules about how it is used. One thing that isn't debatable however, is that using a trampoline is great exercise!
Best garden entertainment (other than a trampoline)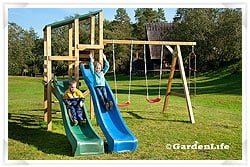 If you don't like the noise from a trampoline, how about a kids timber play frame? They're safer than a trampoline, but more interesting and sociable than a single slide or swing. Adding an element such as a tower or a ladder greatly increases the possibilities for pretend games, and if installed on a lawn or rubber play mat then they are extra safe. Be on the lookout for play equipment built to European safety standards EN71-1 and EN71-8, and if you're environmentally conscious, check for the FSC symbol. All GardenLife play equipment meets such safety standards and is FSC certified, being built from sustainably managed timber.
Best for a break from taking selfies
Parents tend to like the idea of projects, and children will buy into them as long as they don't sound too worthy. As nearly all kids have mobile phones with cameras, a photography project can be as quick or protracted as you like, with ideas such as:
a photo safari in the country, the local park or just the garden
a challenge to take photos of 10-20 different types of insects, birds, flowers or anything else
a family photo competition for the best nature/wildlife photos
a competition to take the most unusual photo (such as textures or unusual views)
Best ideas for a change of scene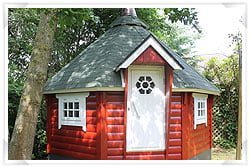 Camping holidays are great, but vulnerable to weather. And many of the best camp sites are booked weeks in advance. Far easier is some spontaneous backyard camping (or glamping). Children can sleep out alone, without parents getting in the way, and there's no need for them to struggle with camping stoves or carrying their own food. They simply turn up in the kitchen for breakfast.
If you want to push the boat out, you could always invest in a barbecue hut. The kids would love something like this come rain or shine, plus adults can take over in the evening and use the hut for BBQs and parties.
Best way to sell the idea of a walk
Most children find walks boring unless there's a purpose or some entertainment. Team up with friends who have a dog, and that's the entertainment taken care of, especially if it likes fetching balls. Older children may even be may able to earn a few pounds by doing some occasional dog walking for friends – an even better way to persuade them to go outside. Alternatively combine the photography project mentioned above with a hike outdoors.
If you want other ideas for ways to get children outside, take a look at the National Trust's great list of 50 things to do before you're 11 ¾.