Spending time in the garden is a way to get happier, according to a survey by Gardeners World magazine. 80% of gardeners say they feel satisfied with their lives compared with 67% of non-gardeners. And 90% of gardening fans say it improves their mood.
If your garden was beset by gales and floods this winter, spending time there may not have seemed a recipe for cheering yourself up. But the arrival of spring is a good time to make your garden more inviting. And you certainly don't have to wait until the summer weather.
1. A few of the jobs the RHS recommends for March are: starting a vegetable patch with some shallots and early potatoes; planting summer-flowering bulbs; the first weeding of the year; and top dress containers with compost. Come April and you can start to plant hardy annuals and herbs; feed shrubs and rose; sow new lawns and repair thin patches. It will all help your garden look great this summer.
2. Introduce things to do or watch. Zen-style gardens with gravel and a few artfully placed rocks are low maintenance, but they don't make you want to spend time there. Having things to do can make your garden more enticing –  from an outdoor table tennis table to a basketball hoop. And so can things to look at: anything from a fountain, to nesting boxes, butterflies (via some butterfly-friendly plants, such as buddleia), or a pond.
3. Think of the garden as a cheaper alternative to gym membership – even during cold weather. Raking and bagging leaves can use 350-450 calories an hour, weeding and planting 200-400 calories an hour, and mowing the lawn 250-350 calories an hour. All that bending, pushing and lifting is great resistance training and good for suppleness (just be careful not to strain your bag when lifting garden containers etc). 35% of people say they don't do gardening jobs during winter, according to the Royal Horticultural Society; maybe they should do.
4. Install some seating. A rug on the grass is fine for an impromptu picnic but what about something more comfortable?A table or bench (and some water resistant cushions for the days when it's damp). Or a covered seating area? If you plan your garden as somewhere to entertain friends – whether it's a cup of tea or Sunday lunch – you're more likely to use it.
5. Add more colour. Wooden benches, bare flower beds, dark-coloured decking – they all look rather subdued in winter and early spring. So create some of your own colour – revive old garden furniture with bold colours,use patterned cushions or rugs, paint a garden shed with retro candy colours, put coloured containers on a patio, and so on. Basically be bold – if you tire of the colours, you can use another colour scheme next year.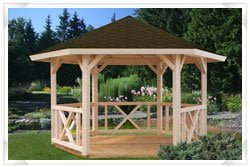 6. In an unreliable climate, being outside is not always an option. It's too windy, too hot, too wet or there are too many wasps. But garden living doesn't have to involve being outside. A garden gazebo could shelter your spring or summer barbecues from the rain, or make a great cover for a garden hot-tub. A timber summerhouse could let you enjoy drinks in the garden for three seasons of the year, not just on a few glorious summer evenings.
A playhouse or garden den could get your kids out in the garden in all weathers, and away from TVs and tablets. A garden studio could let you paint or craft in the warm and dry, using the outside to inspire you. And if you like to do a bit of outdoor cooking but get fed up with the rain, try our new year-round Kim barbecue hut – you can even barbecue in the snow!
With some of these suggestions, a little bit of elbow grease and a touch of creativity, you can make your garden more inviting in 2014.