Modern log cabin DIY kits take traditional timber designs and make them easier, cheaper and more convenient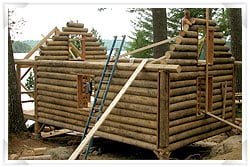 Friends in the US sometimes talk about their plans to build a traditional log cabin, either as their main home or a holiday home. It seems to be part of the American dream – along with owning land and a great pick-up truck.
The cabins my friends in the States hanker after usually look like something out of Huckleberry Finn or Little House on the Prairie, with whole logs and maybe a wooden stoop or a covered porch. And, impressively, they plan to build them from scratch – sometimes even sourcing the logs themselves.
It's admirable but quite an undertaking. It requires not only huge DIY skill and ambition, but also extensive amounts of workspace – not something we have in the average British garden.
Traditional log cabin style
The practical and visual attractions of traditional log cabins are indisputable. With good-quality timber, they're warm, well-insulated and robust. And treated with preservatives and maintained properly, they're highly durable.
A 'traditional log cabin' can take many forms. It could be a sturdy US-style log cabin  – somewhere to grill steaks or mess around with fishing equipment. Or an Alpine chalet with steeply-pitched roof to prevent snow build-up. Or a Nordic-style barbecue hut with an internal grill and sauna-style benches round the edge.  The designs may originate overseas, but they travel well: they all look great in a British garden.
Modern log cabin construction
Modern log cabins add some state-of the-art convenience to the tried-and-tested appeal of traditional cabin designs, especially when they are supplied as a DIY kit. I'm sure Pa from Little House on the Prairie would have welcomed the weatherproofing that comes from laminated door frames or rubber window seals. Or the convenience of tilt-turn window mechanisms and 3D door hinges.
I'm equally certain the Saami reindeer herders in Finland who 'invented' the barbecue hut (or kota) centuries ago would have leapt at the chance of some double-glazing, or an extractor that stops the build-up of smoke from the barbecue grill.
And developments such as wifi have extended the uses of the modern log cabin. For example, a traditional log cabin design can now accommodate a very twenty-first century digital business or home office.
Modern log cabin DIY kits with traditional style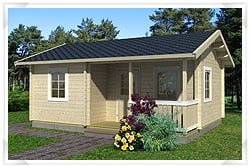 The other great advantage of modern log cabins is ease of construction. I've seen various books and courses about designing your own traditional log cabin or garden building, and what always strikes me is the overwhelming range of choices you have to make, right down to what sort of screws to use. These choices are as off-putting as the amount of time and DIY expertise required.
Modern log cabins take all the best ideas from traditional cabin building, such as using real timber, but then they strip away the obstacles. If you buy a GardenLife log cabin DIY kit, (including the popular log cabin style garages) all the fixings and components are supplied, so there is no need to spend days in hardware stores, trying to source the right screws, bolts, latches, locks, shingles, floor beading or other elements required to build a cabin in your own back garden.
Moreover, with modern log cabin DIY kits, all parts are pre-cut and fit together with perfect accuracy. So, the cabin just takes a day or two to build, rather than eating up a few months' or even years' worth of weekends. It's an altogether easier, cheaper and more practical way to achieve the daydream of building your own log cabin – whether you want designs like Tyne, Whiteadder or Erne, which wouldn't look out of place in the backwoods of North America, or something like the Scandinavian style Kim or Greta barbecue huts.
Traditional log cabin construction photo credit: http://www.outdoors.org (photo taken by by Gary Dethlefsen)