New and traditional ways to preserve fruit and veg
Autumn is synonymous with harvest time, and if you have more than a couple of fruit trees, current bushes or a decent-sized vegetable patch, you'll be vastly exceeding your five portions a day throughout September and October. When you grow your own fruit and veg you want to make the most of harvest time, but you may well have enough produce to last into the following year.
You'll therefore need to find ways to store some of your garden produce to make it last. The ingredients for doing this will range from pickling spices to a garden shed, and techniques can involve simple crates, jam jars and even the odd new gadget too. Of the new and traditional ways to preserve fruit and veg the following five main options will help you deal with your surplus fruit and veg.
The best way to store fruit and veg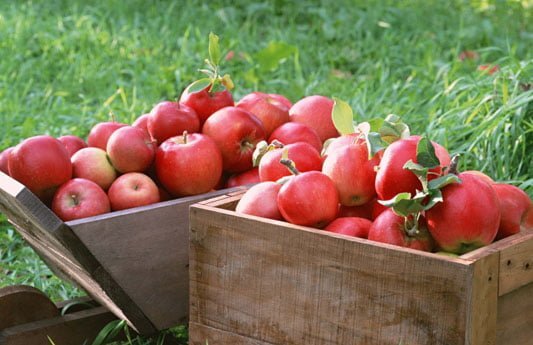 Before you start worrying about pickles and freezers, remember that some fruits and vegetables can be stored in your garden for several weeks – as long as you handle them right.
Top of the list for storing in your garden building – as long as it is dry and ventilated – is apples. It's possible to buy traditional apple racks, but as they can be just a little pricey any carefully lined crates or shelves will do. Handle all fruit delicately to avoid bruising, and store it in a single layer without fruits touching each other. Make sure they are clean and dry too.
Pears can also be stored in your garden shed, though will need regular checks, as they can easily and quickly over-ripen.
Other good fruit and vegetables for storage include potatoes, carrots, beetroot, and of course onions and garlic. Many root vegetables, such as parsnips, swede and celeriac, are especially easy to store because they can simply be left in the ground until you need them.
There are good general tips for storing fruit and vegetables online and Grow Your Own magazine also has regular seasonal advice on storing garden produce. The mighty RHS website also has excellent detailed advice on storing fruit as well as separate advice about storing vegetables.
Try drying your own fruit and veg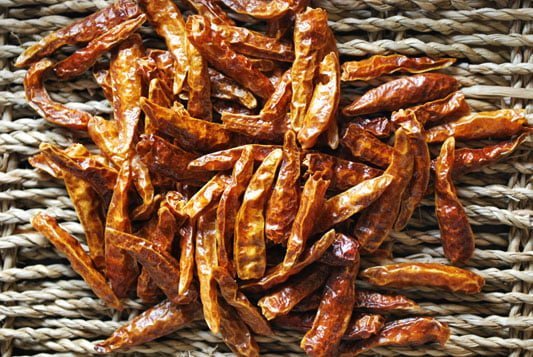 Rather than storing your vegetables in a dry place, but how about going one step further and deliberately dry or even dehydrating the fruits of your garden labours?
Drying's not going to work for everything – root veg, for instance, and we're not convinced about the attractions of dried apple (it's flavoursome, but a bit like chewing on rubber). However, if you grow herbs, chillies or beans, drying them is simple and practical.
The old-fashioned way is to suspend them on thread in a warm airing cupboard, which is practical for herbs and chillies. The modern version is to use a dehydrator, and this opens up the scope for dehydrating your own berries, cherries and currents too. If, however, you don't want food dangling from cupboards or the expense of a new gadget, you can also dry chillies, slices of fruit and bunches of herbs by leaving them on a low heat (around 100°) in the oven all day.
Freezing food from your own garden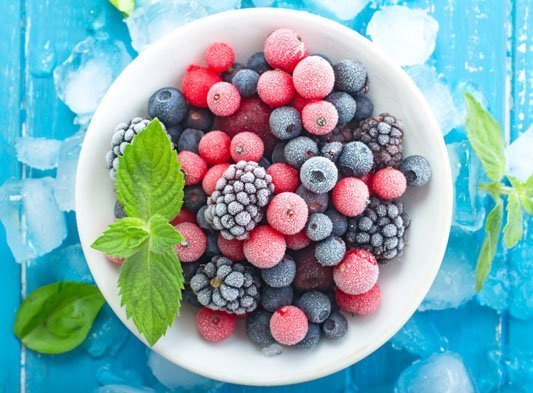 Captain Birdseye may be extremely proud that his peas go from field to freezer within a few hours but you can easily beat that at home. And if you have the space in your freezer to store the contents of your garden, you can keep produce in great shape for months. Freezing also keeps high levels of vitamin C in fruit and veg.
There are different requirements for freezing different fruits and vegetables – a few, such as raspberries, can be frozen as they are; but most need to be blanched (briefly immersed them in boiling water) before freezing; and others will only freeze well if cooked.
And if you have a glut of cucumber, kale, lettuce or radishes, you're probably better off looking at other methods of preserving them, or eating them immediately.
There are some good starter tips at for freezing home-grown produce online.
Preserving fruit and veg for all year use
Stories of people having chutney recipes handed down from their great-grandmother can be offputting, because it suggests there are secret skills involved in making jams, jellies, chutneys and pickles.
Not at all. It's surprisingly quick and easy. Shops such as Lakeland are an easy source for the kit you'll need, from jars to old-fashioned gingham lid covers. Preserving your own produce is also ideal for more delicate vegetables and soft fruit, berries and currents that can't be left in the shed or dried in an airing cupboard.
The tips below will also be useful if you're a preserves novice:
Don't make too much. There's nothing more dispiriting than finding you still have 5 unopened jars of last year's plum chutney when the next plum season has already arrived.
Only use good fruit and vegetables. For all the talk about windfall chutney, you're better to use unblemished produce if you want preserves to stay edible and safe.
Follow instructions about sterilising jars, lids etc.
A jam thermometer is invaluable for telling if your jam is cooked – much easier than old-fashioned solutions involving multiple chilled saucers and water.
Great sources of recipes include Perfect Preserves by Thane Prince – apparently dubbed the 'queen of preserves' by The Times newspaper – are available on the Waitrose website.
Different ways to preserve your fruit and veg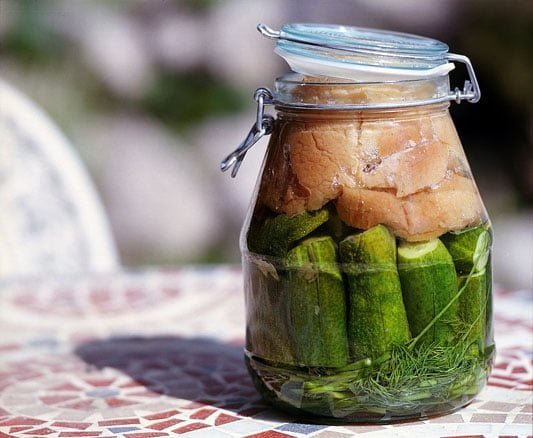 If you want to try an alternative to cold storing, drying, dehydrating, freezing and preserving your home grown fruit and veg, there are other options out there. If you want to get a bit more adventurous try the following:
Quick pickle vegetables – slice and submerge vegetables in an acidic liquid such as vinegar, lemon juice, pomegranate juice, soy sauce or miso. It's faster and less hassle than making a chutney, plus the taste will be completely different too.
Ferment your own wine or vinegar – If you are really overburdened with a bumper crop of fruit or sweet vegetables you could make your own homemade wine or custom vinegar.
Dry salt vegetables – packing freshly picked vegetables in dry salt not only preserves them, but it can intensify the flavour and improve the texture. Check out some simple techniques.
Macerate fruits with alcohol – it couldn't be easier. Too many berries, cherries or currents? Wash and dry them then drown them in your favourite alcoholic tipple. Vodka, rum and brandy work particularly well (the alcohol should be 80% proof) and you can also add dried spices and sugar to intensify sweetness.
Smoking food – typically fish and meat is smoked to preserve it. Smoking vegetables doesn't have the same effect, but if you're going to the trouble of making a chutney or salt curing veg, you could consider smoking it first to add a different distinctive flavour.
With all these new and traditional ways to preserve fruit and veg, you should be able to make the most of your autumn harvest throughout the whole year.