New summer houses, sun rooms, sheds and more
Until recently, garden buildings generally came into two versions (and designs for new summer houses with few and far between). There were sheds, which were mostly utilitarian, and standard summer houses, which were mostly draughty (and often just looked like large sheds). Beyond that, the choices mainly involved deciding between large, medium and small, and, perhaps, what the doors were like.
In 2017, the picture looks very different. Garden buildings are now integral to how many of us live – places to work, entertain, chill out or exercise all year round. Because of this, the old choices of shed versus summer house, large versus small don't cut it anymore.
Summer houses with bi-fold doors
At GardenLife, we continually add new models, designs and features to our range of timber garden buildings. We're always in pursuit of your ideal – helping you find the dimensions, layout and design details that perfectly match your aesthetic or the way you want to use a garden building.
Take the new choices we've added to our range this year (some of which we've teased our Facebook followers with):
Already proving popular are our new bi-fold doors, available on our Ines and Lea summer houses. They open up most of the building width, ideal for parties or enjoying the sunshine.
The doors are double-glazed, insulated enough for year-round use.  And to maximise light and airiness – in summer or winter – both models have optional side windows.
A gazebo with glass or timber sides (or neither)
'Optional' is a word we use a lot at GardenLife. As great believers in flexibility, we offer our new models with different configurations.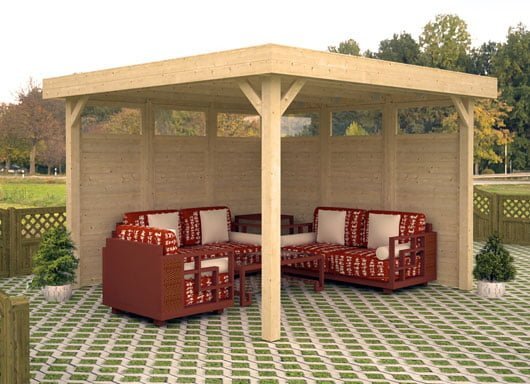 With our Lucy gazebo, for instance, you can have it with open sides; with solid timber wall elements; or with an option we're especially proud of – wall elements with glass panels. You can tailor it perfectly to your garden and preferences, having wind shelter and views exactly where you want them.
New summer houses in different sizes, configurations and shapes
Another model that spoils you for choice is Melanie, now available in six– yes, six – sizes and configurations.
The underlying idea is the same for all six– it's a corner summer house (for efficient use of garden space) with views and light on three sides. But you can choose between different dimensions or window sizes, and even add a splendid 8.3 sq m of covered space – somewhere for a barbecue, sandpit or hot tub, perhaps?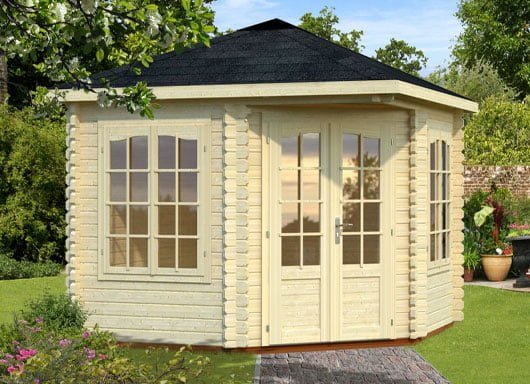 Other new sun rooms also come into different sizes and shapes. For example, Mary has the option of different sizes or roof extensions – great for storing logs, bikes or other equipment.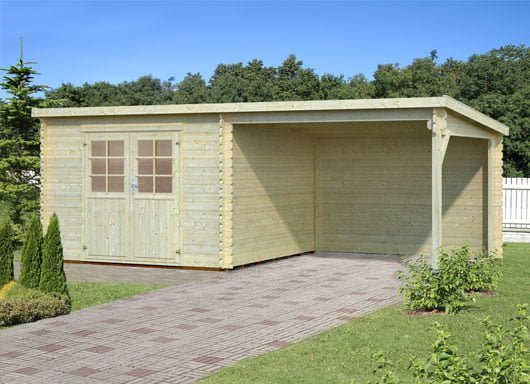 And our popular Lotta and Klara log cabins each come in three sizes.  And we're not talking small variations here.
The smallest version of Klara offers a useful and attractive 4.7sq m – perfect for a playhouse, summer house or painting space in a compact garden. In contrast, the largest Klara cabin has a whopping 17 sq m of space – enough for an entire painting class or army of small children.
On trend: new wood treatment and roof options
Another innovation for this summer is our new dip treatment options. As before, you can buy the cabins untreated, and apply wood preservative yourself. Or you can now buy them dip-treated, to protect the timber against mould, rot, wood-destroying fungi and insects.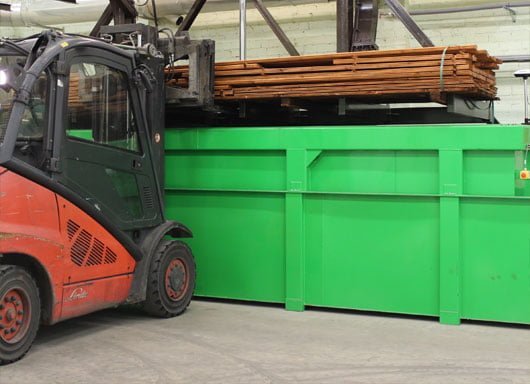 You can choose between:
grey, which makes the timber look aged and weathered (in a good way)
brown, which intensifies the natural appearance of the timber, making it richer in colour
clear, which gives you a blank canvas for any paint colour
On roofs too, there are new choices, with shingles now available in black, red and green.
And the rest: from a stunning verandah to guinea pig paradise
If you're not already dazzled by the choice of new summer houses and sun room designs, we should mention a few new styles that are far outside the traditional shed/garden building spectrum.
A stunning addition is the Agneta garden cottage. As you'd expect if you've read this far, it comes into a choice of sizes. The larger version has a huge terrace on two sides – so much verandah space, you're practically in Gone with the Wind territory.
Less grand but more contemporary and urban are Hedwig and Ethel – both slick, QuickFit designs with modern fine-sawn cladding – as well as large multi-room storage sheds Jari, Olaf and Kalle.
And last but certainly not least, there's Roger, a seriously large and robust garage that could fit not only a large vehicle but probably several record collections, old mowers, a table football table and every bike your children have ever grown out of. And with 70mm timber walls, this garage should be warm and insulated enough for even the most pampered of guinea pigs.
So there are plenty of new summer houses and design features to tempt you, but as ever, we've kept the details that set our range apart – slow-grown timber, solid construction, robust fittings, durability, and good service. If you'd like to chat through any of the options, choices and practicalities, just get in touch – we'd be delighted to help.