A shed is "a slight structure built for shelter or storage or for use as a workshop", according to the Oxford English Dictionary, but that old-fashioned definition of the shed seriously underplays the possibilities of the modern shed (especially our best posh garden sheds).
To be sure, 21st-century sheds can provide shelter, storage and workshop space. But they're certainly not all slight. And they're also being used as offices, entertainment spaces, extra rooms, dens, summer rooms, workshops and much more besides.
Given the way that sheds have metamorphosed in the past few years, it's not surprising that many people are now talking about 'posh sheds'. It's a great way to distinguish them from the old-style lean-tos where people kept their gardening tools.
At the same time, don't let the term 'posh shed' cast a false impression. It doesn't have to be the type of grand or eccentric design you'd see on TV programmes such as Shed of the Year. Nor does it have to cost a five-figure sum, contain an Aga, or house your very own garden pub – despite some of the articles you might see in newspapers or magazines.
What we really mean by a 'posh shed' comes down to three basic elements:
High quality construction
Range of use
Beautiful design
1. The construction of a posh garden shed
At GardenLife, our first criterion for a garden building to count as 'posh' is that the construction and materials are first-rate. Importantly, the timber used is dense and robust, and solid enough that you can spend time in the shed on cooler days (without having to pile on multiple coats, scarves and gloves).
For instance, our Roe beachhouse design (below) and Truro log cabin style designs (feature image above) are suitable for gardens with limited space – i.e. you don't need a country estate to install them. But, they're made from 28mm solid timber with superb insulation qualities.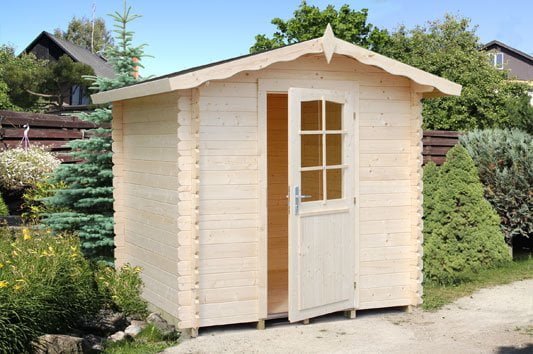 They've also got real glass windows, and solid timber roof and floor; there's not a trace of OSB board or plywood to be found. Owing to their high-quality materials, they're insulated enough to use through spring and autumn, and has excellent longevity and durability.
The quality is also apparent in small design details such as the quality of the fittings and the front overhang that gives protection from sun or showers. So, these sheds are posh, whilst still being affordable.
There's a similar story with another of our best posh garden sheds, the Ure garden room. The design isn't flamboyant and won't alienate the neighbours, but look carefully and it's far from being your run-of-the-mill garden shed. With 44mm timber walls, it offers exceptional insulation – meaning you can have your New Year's Day lunch in there, as well as drinks on a summer evening.
2. The uses for a posh garden shed
There are basically no limits to the uses for a posh garden shed (at least within the limits of the law). Our customers use them as places to entertain, chill out, run a business, do yoga, play the drums, star gaze and any number of other things.
Take the versatile Brook, a shed that's of such quality and style that we call it a log cabin. Some of our customers go the traditional route of using it to store garden equipment or mend their bikes. But others use it as a writing room, man cave or kids' playden.
In effect, then, a posh garden shed is a way to get more living space, without the hassle and expense of building an extension. Or to improve your lifestyle, through entertaining in greater style, starting a hobby, working from home, or having your own space. What else is it about our best posh garden sheds?
3. The design of our best posh garden sheds
One other way for a shed to be 'posh' is in the design and styling, and the only limits here are your own style preferences (and perhaps the planning permission rules where you live).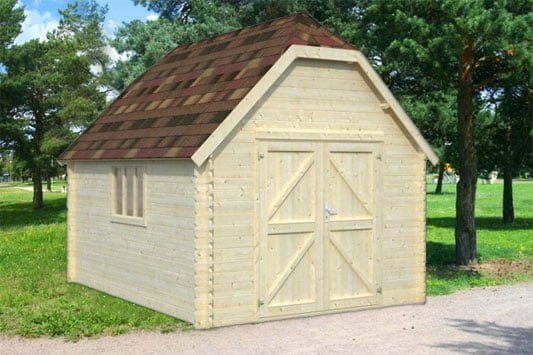 There is now a vast choice of timber building styles available to buy – not just traditional shapes such as summer house or beach hut styles. For example, our Dutch barn shed is definitely a step up from your standard toolshed, and it's available in different sizes.
Those who prefer more contemporary styling also have the options of sophisticated modular designs, such as our modern Fiona garden room. It's popular with customers as a garden office, and its double-glazed windows and insulation options make it ideal for year-round usage.
Modern styles like Fiona (above) are also quick and easy to assemble yourself – fortunately, not all 'posh' sheds require weeks to make, advanced DIY skills, or the services of an artisan shed-builder.
Adding your own design details can also make your shed 'posh' – from exterior paintwork to the furnishings inside. Sites such as Pinterest can provide excellent interior design ideas, and you can even check out our customers decorating pics. Or, if your posh shed already has first-rate timber, construction and fittings, you may prefer to keep it simple and let the quality of the materials speak for itself.
Either way, you can sit back and bask in some serious shed envy from the neighbours if you decide to enjoy one of our best posh garden sheds.