Winters (and summers) seem to be getting wetter, so if you're fed up of not being able to use and enjoy your garden when it's wet, check out our guide to the best design solutions that incorporate a patio, pergola or gazebo:
You don't need us to remind you it's been a wet winter. Even if you were lucky enough not to have your home affected by flooding or storms, your garden may well still bear the scars. Mostly in the form of mud and waterlogged paths and sodden lawns. So, given that we may get similar wet winters (and summers) in future years, we've put together some easy-to-manage garden design ideas that should take you through rain, more rain, and mud – whatever the season.
Look down, look up
Solution 1 is to think about what's underfoot, using patios and paths to create dry areas whatever the weather. So, as soon as the rain stops, you can get outside without sinking into mud or grass-turned-bog.
Solution 2 is to think about what's above, using pergolas, gazebos and other garden buildings to create some shelter from the rain. And, fingers crossed, they will also help you shelter from the overhead sun if there's a good summer.
The beauty of both solutions – patios or gazebos – is that they can be relatively simple DIY projects.
Garden patio checklist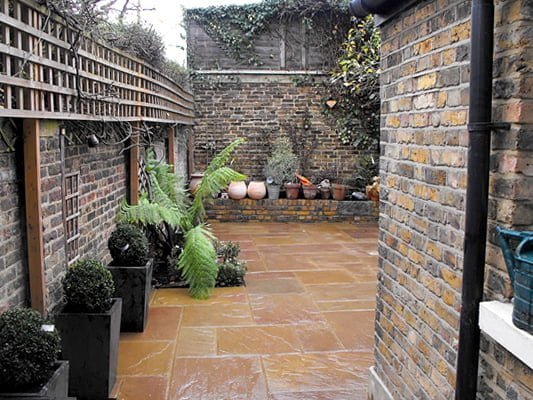 As well as providing a mud-free area, patios can add interest to a garden, and act as a focal point. And they don't automatically have to be next to the house.
A few basic rules:
A good strong base is crucial, with sand and gravel usually recommended
How thick the base should be depends on the soil and drainage in your garden
The patio should sit slightly above the surrounding area so water can drain off
The patio shouldn't be completely level and should be edged by gravel to allow heavy rain to quickly soak away
When digging the base, stay well away from places where you know there are tree roots, or utilities cables and pipes
For some other useful tips, take a look at the DIY Network website.
Patio designs and patterns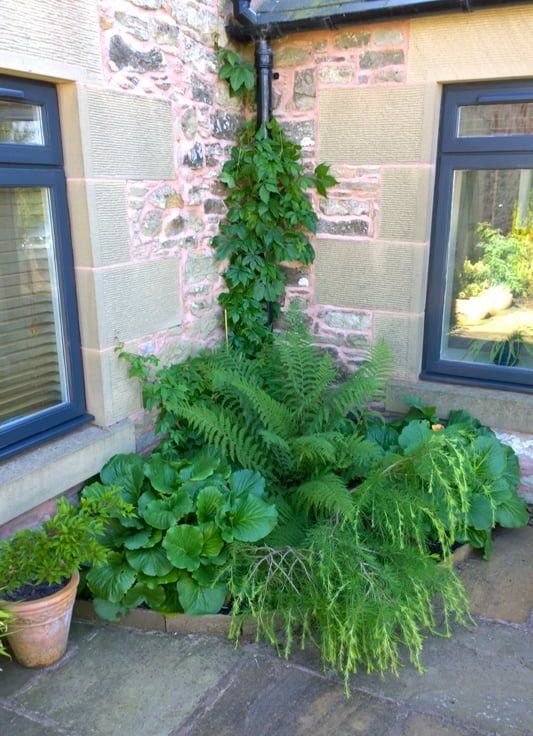 More exciting than the practical dos and don't s is choosing materials and patterns. On materials, you'll find huge choices of new or recycled pavers at DIY stores and builders merchants. Recycled bricks and stones are an eco-friendly option – you can either re-use them as they are (though this will usually entail having colour variations) or buy new pavers made from recycled materials.
On patterns, there are five basic patterns: circular, herringbone, basket weave, European fan pattern, and running bond. Or for a more ambitious choice of patterns and layouts try Paving Expert, this has useful grids, which you can adapt for your own garden on graph or squared paper.
If you do want to build your own patio as a spring project, there are hundreds of websites and YouTube videos giving step-by-step instructions. If you want to take your patio to the next level, then covering it with a pergola or wooden gazebo is the next step.
The patio pergola combination
Obviously, the best way to enjoy your garden during rain is to buy or build a cabin, workroom or summer house. But if that doesn't fit your budget or garden design, a pergola can provide visual interest and weather shelter.
The idea of the pergola dates back to the Italian Renaissance, when people started to use wooden structures with crossbeams and climbing plants to create shade. Some were just focal points for the eye – a beautiful arch of plants at the entry to a garden. Others were more like a tunnel of shade – somewhere to stroll or sit away from the sun.
Whilst finding some shade may not be your immediate priority, a pergola could be a great spring DIY project that would perk up your garden design all year round. And the design style doesn't have to be traditional – nowadays you're as likely to find minimalist pergolas using modern materials.
There are some beautiful ideas for pergolas on the HGTV website; check out the wonderful outdoor reading room, with grass coming through the pavers.
The all in one solution: a self-build garden gazebo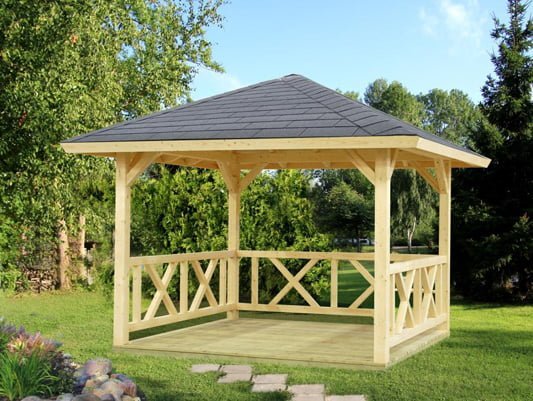 A step up from wooden pergola is the garden gazebo; gazebos are typically built from timber and incorporate a pitched roof to ensure the occupants remain dry even when it's pouring.  Gazebos range from simple square shape designs to more unusual octagonal bandstand-style gazebos, and other gazebos feature window proofing too (protecting you from the prevailing winds whilst remaining light and airy.
Gazebos typically feature a wooden decking area, an alternative to patio pavers which aren't everyone's cup of tea. However, a wood gazebo could easily be built over an existing paved patio, or fixed onto decking.
If you don't want the hassle of designing and installing a patio decking then you could consider a wooden gazebo designed for home install, as many of these come with timber flooring. Gazebos are handsome, affordable and easy-to-build, so if a DIY pergola sounds too much for you, buying a  self-build gazebo might be the best option.
An added dimension
Finally, if you do want a plant-bedecked gazebo or pergola – whether traditional or modern in style – there are easy planting suggestions at Perfect Pergolas, including vines, clematis and honeysuckle. Jasmine is also a popular and fragrant option and there are ideas and recommendations for climbing roses for pergolas on the Royal Horticultural Society website.
Having planted them, you'll need to persuade them to grow beautifully around your structure, for example, using pruning or training the stems to avoid the common problem of having bare stems lower down the gazebo.
Patio, pergola or gazebo?
Obviously it takes time to create a patio, pergola or gazebo – in particular growing plants, but with a self-build timber gazebo, you could easily have one in place for summer. If you have any questions about any of the GardenLife garden gazebos please don't hesitate to get in touch.