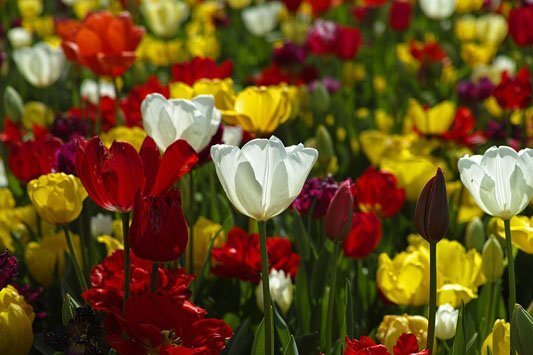 For novice or semi-committed gardeners, planting bulbs can be the ideal form of gardening. You do some gentle digging, plant the bulbs, ignore them for a few months, and then wake up in spring to a bank of daffodils, tulips, alliums or other bulbs of your choice. If only all gardening could be like this.
In addition, bulbs come in a vast range of varieties, colours and sizes, and it's worth exploring beyond the obvious ones like daffodils, crocuses, snowdrops and tulips. Bulbs also offer great flexibility in terms of where and when you plant them.
When to plant bulbs
A rough rule of thumb is that you plant spring-flowering bulbs in autumn, and autumn-flowering bulbs in spring. The best time to plant spring crocuses, snowdrops and daffodils is generally September and October, however, November is the ideal time to plant tulips, which like to be planted when the soil is colder (plant them earlier, and they are vulnerable to a fungal disease called tulip fire).
If you really want a new crop of daffodils next year, and have left the planting late, some guides to bulb-planting say you may be able to get away with doing it in November, especially if you live in the warmer parts of the UK.
Where to plant bulbs
Popular bulbs such as daffodils and tulips can be grown in a variety of places and for a variety of purposes:
To fills gaps in borders.
Around the outside of a summer house.
In formal (or random) displays in flowerbeds, which can then be succeeded by displays of annuals later in the summer. Conventional wisdom is that the larger showier tulips look better planted in formal arrangements, but this is a matter of opinion.
Around the base of a tree – this looks more natural with smaller bulbs such as snowdrops, crocuses, dwarf daffodils, and winter aconites
En masse on a grassy bank – think Wordsworthian daffodils.
In containers, either using a single variety or a mixture. The Crocus website has good ideas for container planting, including how to make a 'bulb lasagne' of tulips, hyacinths and crocuses, planting them in layers so that they flower throughout spring.
How to plant bulbs
The cardinal rule with bulbs is to plant them the right way up! This will generally mean with the sharper end pointing upwards.
The usual advice is to plant them at three times the depth of the bulb, and two widths apart. The RHS has a nice video about planting bulbs, and you can use the following guide to help work out the best planting depth for your chosen bulb.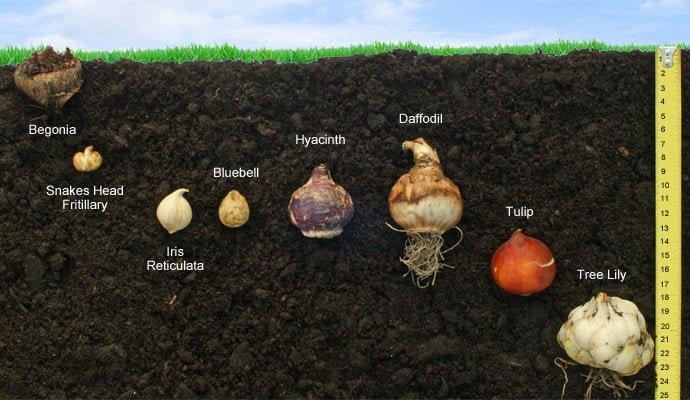 If you want more encyclopedic information about the what, where and when of planting bulbs, and what to do after they've flowered, you can't go wrong with RHS advice.
What conditions do bulbs prefer?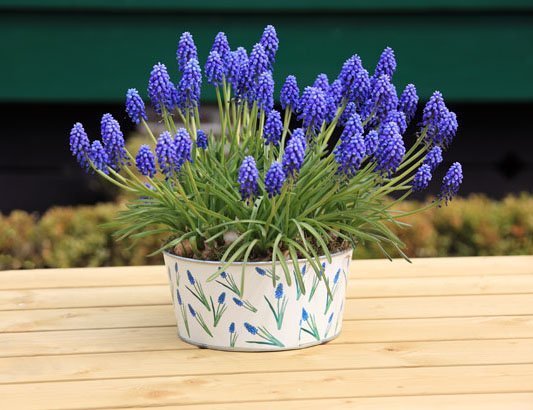 The general answer is that bulbs like sun (full or partial) and good drainage. However, there are also bulbs that will grow well in shade.
If you are growing bulb in containers, you will generally need to plant them in a pot with a drainage hole at the bottom, which you can cover with broken pottery to prevent the drainage becoming excessive.
How to protect bulbs from pests
The biggest threat to your bulbs could well be squirrels, which dig them up and perhaps eat them (depending on the type of plant). In a more rural area badgers may well dig up everything that you plant, leaving your lawn or beds full of empty holes. The bulbs are particularly vulnerable when newly-planted since the soil is likely to be loose. Covering the soil with chicken wire, and leaving it there until the first shoots appear should protect them.
Inspirational ideas for planting bulbs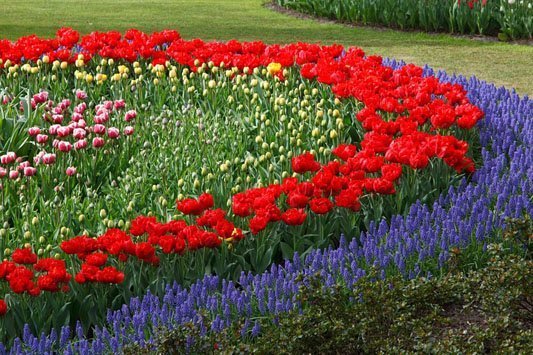 There are wonderful spring bulb displays all over the UK, from the snowdrop CCC at Cambo to the Tulip Festival at Pashley Manor Gardens, on the Sussex-Kent border, in April-May each year, with a display of around 100 varieties. Gardeners at the Eden Project, in Cornwall, planted around 30,000 bulbs in the winter of 2015 (although this might not be feasible in your average back garden)!
Even if you don't plan to compete with Pashley and the Eden Project, you may get some good ideas for formal or informal bulb settings, either from visiting in person or looking at pictures.
Bulb sourcing
If you want the basics, your local supermarket or DIY will probably have multipacks of bulbs, with clear instructions. If you're buying bulbs in person, look for firm bulbs, and avoid any that are soft, shriveled or have signs of mould.
If your bulb plans are more ambitious, there are various specialists with online shops. Large generalist garden websites such as Crocus.co.uk also have good selections. Specialists include:
Glendoick has a wide choice of bulbs, and, being Scottish, some good advice about growing bulbs in colder northern climates.
Peter Nyssen has a vast supply of different bulbs, and has some suggestions about popular bulbs for beginners or even children. The website is limited in terms of planting advice, but it has a nice tool for browsing and planting by colour.
Bloms Bulbs also has a vast choice, and some good practical advice on growing tulips, daffodils and other bulbs.
Planting bulbs in spring
If you really feel you've left the bulb planting too late this autumn, your next option will be to get out into the garden in early spring, and plant some bulbs for next autumn. There's a useful list of ideas for autumn/winter 2017 on the Thompson & Morgan site.