Playhouse ideas – how to build a playhouse for your kids
It's a defining moment for every parent – the day your son or daughter asks if you'll build them a playhouse (or a treehouse, if you're lucky enough to have a mature tree in your back garden).
For the DIY gods of this world, it's a wonderful excuse to get creative, unleash the power tools, and re-create the playhouse of your childhood – or childhood dreams. Some people will simply have endless playhouse ideas and designs.
But for the DIY phobics among us, it's a defining moment for all the wrong reasons. Your ability to keep coming up with excuses won't last, and it could be several years before the requests to build a playhouse or garden den finally subside. At this point your child will no-doubt have built their own stupendous playhouse in Minecraft, and their playhouse ideas won't be hindered by DIY experience (or lack thereof).
So where to start? If you have basic DIY skills where do you get your playhouse ideas and inspiration from?
The dengineers – perfect for playhouse ideas
The fourth series of the CBBC series The Dengineers is being filmed in April-August this year, so will be hitting a TV screen some time soon.
For those of you who don't know The Dengineers, it's like Grand Designs or DIY SOS for kids. Each episode sees a crack team of designers and builders bring to life the den-dreams of an 8-12 year old.
A typical episode could see the dengineers build a back-garden den in the shape of a rugby ball; or a miniature wooden Scottish castle with turrets and working drawbridge; or a music playhouse  with a façade like the front of a guitar amp.
They come up with amazing playhouse ideas and build them from scratch, or use an existing space such as an attic, basement or existing garden building. Materials are affordable and often recycled, and it's great feel-good TV unless you happen to bump into your own inspired children shortly after an episode.
Building a playhouse or treehouse for beginners
So, if the next series of The Dengineers does get your family yearning for their own wonder-den, what can you do?
1. Consider the little playhouse details
Watch a whole episode of The Dengineers and you'll see it's the details that turn a den into a wonder-den. In the music den episode, for instance, it's the addition of dials and a giant audio jack and cable that turn an ugly orange-framed box into a cool amp-themed den. And on the inside, serious sound-proofing turns into a serious rehearsal room, and a wall decorated with old vinyl give it a studio feel.
2. Don't overthink your playhouse ideas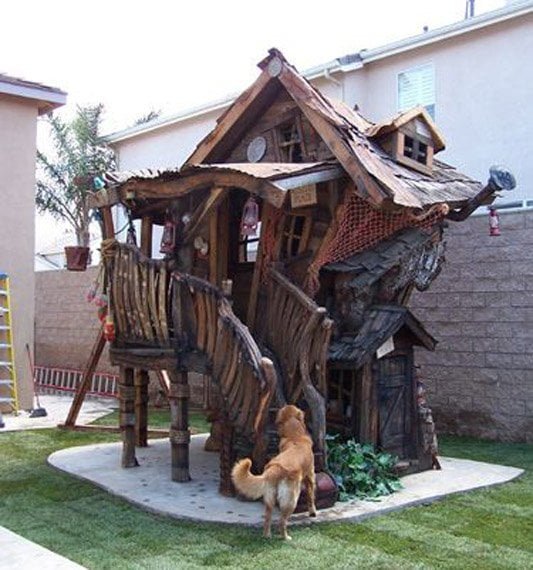 On the other hand, too much detail and too much interior design or furniture can spoil the best den or playhouse ideas.
If you think about it, your children's den may house a toys' tea party one day, and be a spy den the next. A pink palace may be great for the former, but not for the latter. So The Dengineers may accessorise down to the last detail for the sake of impressive TV, but you may not want to for your own den or playhouse ideas.
3. Everlasting playhouse perfection, or temporary fun?
Even the most digitally-fixated 21st-century kids can get caught up in the old-fashioned joys of building a playhouse. Not a DIY masterpiece with turrets or drawbridge, but a temporary lean-to made of old branches, wooden pallets, old tent poles, ripped sheets, and any other materials that can be borrowed or recycled. A living willow playhouse is also a great way to create a space for the kids without any DIY knowledge.
Almost as good are indoor dens involving tables, chairs, clothes horses and a variety of duvets, sheets and cushions, so the kids can take over a room for the day and pretend they're invisible.
All you really need for a temporary playhouse, either outdoors or indoors, is an internal structure or framework, and things to drape over it. There are some good playhouse ideas on the Eden Project website.
4. If you decide to build a treehouse, do it properly
In books, memory and the imagination, treehouses are improvised affairs that materialise slowly as materials become available.
In most cases, that's nonsense. Reach a bit further into your memories of those improvised treehouses and you may recall the broken arms and accidents involving damp wood or rusty nails that often came next.
If you do decide to build a treehouse, you need a plan, good materials and time on your hands (you may need planning permission too). There's are good articles on the Independent and Dickies websites which will tell you all you need to know.
5. Take the lazy playhouse path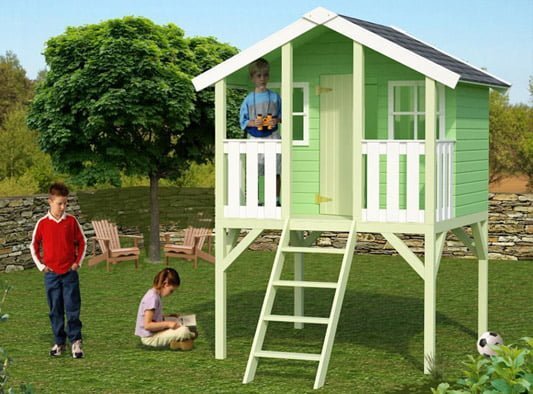 Simpler than coming up with your own playhouse ideas from scratch is to buy one. GardenLife Log Cabins has a good range of timber garden playhouses to catch any child's imagination.
Designs include a miniature Alpine chalet for those that loved the book Heidi (or ski holidays!), a playhouse on stilts, or a design that looks like a Christmas gingerbread house brought to life, complete with tiny chimney, front 'garden' and porch.
All these timber houses are easy to assemble and built from sturdy Nordic timber and high-quality fittings, so certainly no issues with rusty nails and rotting wood.
6. Think beyond the playhouse
Finally, if your children are older, it's a good idea to build (or buy) a design that can evolve – playhouse for the first couple of years, then teenage games room or music studio later on.
A flexible, plain timber building (either traditional or contemporary) that is flexible in terms of space and usage can easily be redecorated or re-themed at intervals to reflect the kids' changing tastes. For example, if you buy a simple but solid garden building such as Vivian 3.8 sqm or Klara 4.7 sqm and paint it pink inside and out in years 1-3, and then re-design it with different colours and furnishings thereafter.
Hopefully with these playhouse ideas you can make your perfect den, be it a short-term lean-to, a beautifully original handmade playhouse, or a hassle-free off the shelf number delivered to your door.