There's a lot of talk about man caves recently, but here's something less familiar, the "she cave" or "she shed". All over the country, old sheds are being renovated, or new ones installed, as women take over gardens and backyards. No longer are garden sheds and workrooms the preserve of men only.
You'll find plenty of inspirational ideas for garden she caves online – yoga havens, hobby rooms, temples to pink, 50s diners recreated in someone's backyard, beach huts transported to a suburban garden, or an oasis away from TVs, PlayStations or children asking for food.
And if you go beyond the stereotyping, there are plenty of other uses for a well-built timber she shed. Somewhere to write, paint, or store your collection of power tools. Somewhere to start a business, so you can work at home and avoid the tedium of commuting.
And most important of all – somewhere that belongs to you, where you don't have to compromise on taste in design, or trip over someone else's belongings.
This applies equally to she sheds and man caves. If you want a living space entirely themed to Star Trek or Downton Abbey, then having your own garden room is probably the best way to do it. And if those aren't your thing, but you still want a timber she cave, then here are a few of our top selling garden rooms.
Best garden she shed for a tight budget or a tight space
Our GL27 garden building is a low-cost summer house that won't eat too far into your wallet or your garden. The corner design lets light flood in through the double doors and full-height windows, and it's spacious and airy. It's an ideal space for a glass of prosecco and some good chat. The perfect, low-cost, timber she cave. If you like the corner design but would like something bigger, you could try the Nene summer house (shown in the feature photo at the top of the post).
Best timber she cave for a workroom or hobby room
There's some serious storage space in the GL87 timber cabin, so this would be an ideal she shed if you want to store materials or tools – from canvases to sewing materials to fitness equipment. And imagine the joy of not having to share your storage cupboards or drawers with other people's stuff!
The cabin has 34mm timber walls, meaning it is insulated enough to use in the cooler months – a true year-round garden she cave.
Best garden she cave for a yoga room
The hexagonal Hareford pavilion measures over 3m in diameter so there's plenty of room to stretch out your yoga mat. And you can enjoy 180-degree views of the garden while you do your Downward Dog.
With 34mm timber walls and a 19mm real wood floor, it would be snug and warm on a rainy day. It's available on 8-10 day express delivery, so you wouldn't have to wait long to treat yourself for that she cave you've been longing for.
Best she shed for a day bed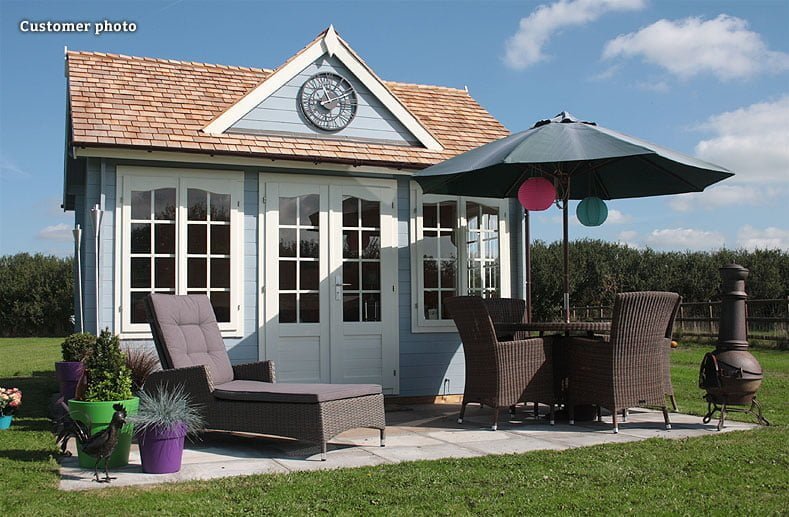 Yoga, workrooms, gym equipment … this is all becoming a bit energetic. So, here's a perfect backdrop for a day bed – the Wye summerhouse with a traditional clockhouse design. There's also room for some comfortable chairs, or a writing table or art area in case you ever want to pretend you're busy.
Best garden she cave for a change of lifestyle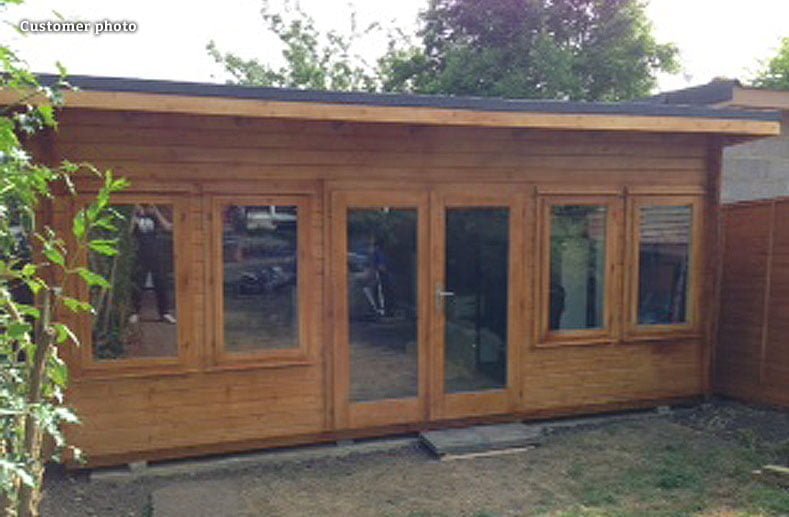 Our Finn garden room would both make an ideal home office. With 44mm timber walls and double-glazing, it's intended for all-year round use, and the stripped-back design looks professional and modern.
You could use it as your own home office, with room for storage space, IT equipment and work materials. Or, with its 5.3m by 3.8 dimensions, it's also big enough for customers to visit or for a desk for a colleague.
Just imagine – no more commuting for hours to the office; just a quick walk across the garden to your beautiful she cave/office, and the excitement of running your own business and taking control of your life.
And just to make the process even easier, Finn measures less than 2.5m high, so most people won't need planning permission to install it in their garden (though you should check this, because regulations in some areas are different).
We could show you many other ideas too – best she sheds for impressing your friends; best she caves for entertaining; best she sheds for a home gym, but it's probably best if you browse around our site yourself, and give free rein to your own day dreams for a space of your own…