Square garden design – how to best transform your limited space
This month in our series on garden design ideas for different shapes of gardens, we're tackling an all-too-common horticultural gripe; how to come up with a unique small square garden design. If you live in an urban or suburban area, it's quite likely your garden is a little square-ish shape – not exactly the stuff of garden design fantasies.
But don't be defeatist – with the right tricks, your handkerchief of a backyard can be transformed into a far less square, more spacious-looking area. To help you do this, here are 6 tips to create an inspiring and roomy square garden design with your box-like plot.
Curved lawns complement a square garden design
Let's face it – a square garden with a square lawn isn't particularly exciting. If you want to jazz things up, try changing your lawn shape – circular, oval or curved irregular shapes will all distract the eye from the box shape, and make your garden appear more creative.
Curves and arcs also create more opportunity for interesting borders, beds or small vegetable patches, or for foliage to break up the lawn. However, when using foliage to create visual interest, be wary of shrubs that are likely to grow too vigorously outwards – they will end up turning a compact square garden design into an even smaller one.
If you decide to use lawn shapes to break up the square, lawn edging is essential to keep the lines crisp and defined. Have a look at the different options for edging materials (from metal to bamboo to eco-materials) on the Primrose website.
Complement or contrast with borders and paving
Having borders, walkways and lines in your garden can take away from its squareness and create more of a visual (as well as physical) journey around the garden.
This approach can also help you create different sections, for example, a sinuous path to a relaxing or dining area can transform the look of the garden, and also the way you use it.
Wooden boardwalks are inexpensive but if you're after a more robust alternative, stone bordering and edging are more versatile in terms of shape. And if you decide on a border for your new square garden design, there's an inspiring 'cheat's guide' to starting a border detailed in this article on the Guardian website, including the very tempting Garden on a Roll that does virtually everything for you except dig the bed.
Add height, steps or levels to break up your square garden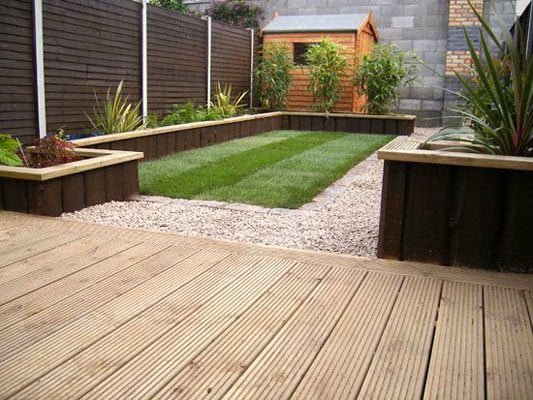 Introducing differing vertical aspects to your garden will help spruce up its appearance and profile as well as creating more interesting features.
You can combine this approach with the 'journey' tip above by raising your walkways or perhaps giving your decking some height, perfect for an al fresco dining section. Even a larger structure like a pergola or arch can do the job, as can raised beds around a central lawn.
A more natural approach is also effective – a row of small trees or tall plants like delphiniums contrasted with low plants can create interest and intrigue. There are some good ideas for tall border plants on the Thompson & Morgan site.
Use the walls or fence around your square garden to enhance it
In too many suburban and urban gardens, the walls or fences are bland or even ugly – they restrict your garden and act as boundaries, without actually adding any visual interest at all.
An excellent way to combat this can be to incorporate the boundaries into the design. Planting climbing plants up trellises on a wall or fence will create a more natural and organic feel, and make the garden feel less confined, without eating up as much space as a border.
You could even hang flower baskets or planters on a wall or fence, extending the planting space if your garden is tiny. For a good selection of wall planters have a look at the Woolly Pocket site.
Alternatively, try integrating raised beds with seating areas or a fountain into the fence or walls around the edge of your square garden design.
Sectioning; break your square garden into different zones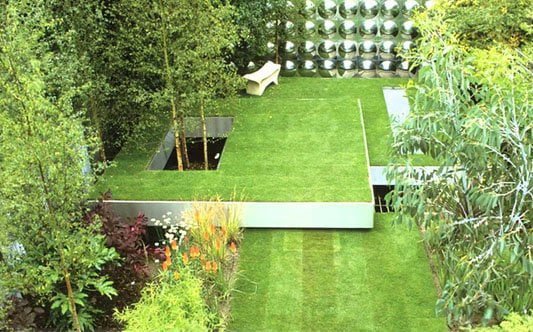 If you can take in everything in your garden at first glance, its squareness is going to be immediately obvious.
A great method to fix this is to compartmentalise your garden into different sections with different purposes. You can divide using borders, tall plants or trellises.
A dining area either right next to the house (for convenience) or at the far end of the garden (for a more getting-away-from-things feel) could be useful, while a shady spot, kids' play area or small vegetable patch could be useful and easily accomplished.
There are some inspiring ideas for small gardens (though not all of them are square in shape) on the Ideal Home website.
Add a structure or garden building to disguise the square shape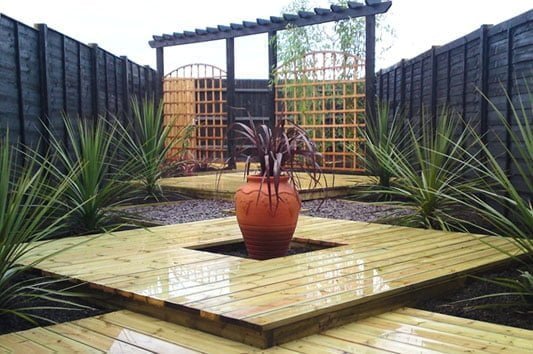 Having a focal point to grab the attention will disguise the squareness of your garden – whether a pergola, gazebo, summer house or garden office.
Bear in mind a non-square or non-rectangular shape will likely achieve this goal better, as well as using space more efficiently, so look at corner buildings and circular or hexagonal shapes.
Remember that, in most circumstances in the UK, a building within 2 metres of a boundary wall will require planning permission if it is over 2.5m high, so take this into consideration when choosing a structure. Garden Life has a wide selection of sub-2.5m buildings available here.
Hopefully these tips and inspirational ideas will help you generate some great ideas for your own square garden design.