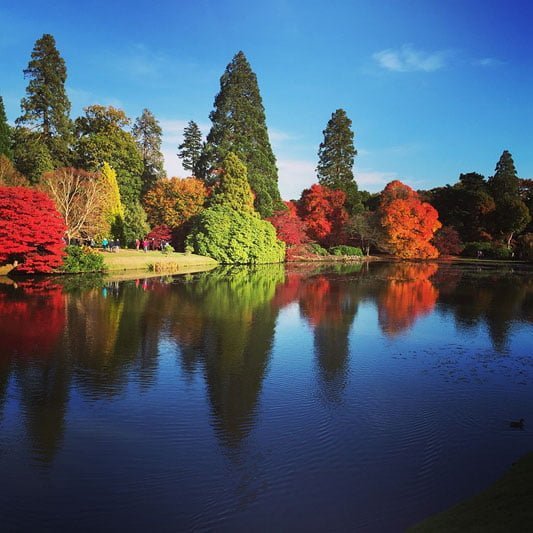 The best gardens to visit this autumn?
Autumn, with its orange, red and ochre colour palette, is a sweet spot when it comes to gardens. Sandwiched between baking summer weather and winter's short cold days, it is a beautiful season.
Many of the British Isles' gardens, parks and stately homes look their most glorious in October and November. So, we've picked some of our favourite gardens around England, Scotland, Wales and Northern Ireland. Any of which is fit for a visit in the season of mellow fruitfulness.
You could go for a day out with family and friends, some garden inspiration, or to help children or pets burn off some energy. So, what are some of the best gardens to visit this autumn?
Visiting Sheffield Park and Garden in autumn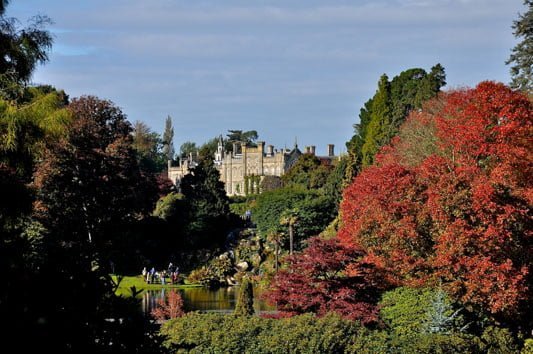 You'd be forgiven for thinking this spectacular park, complete with four ornamental lakes and dense woodland, is in Sheffield. It is however in East Sussex.
Once a WW2 camp and a deer park, it's now a terrifically Instagram-friendly setting. Its reflections of autumnal trees in the lakes attract thousands of photo-hungry visitors every year. There are numerous glades, wooded areas, paths and tree varieties – ideal for gardeners and those who want a peaceful, rural stroll.
It's also very family friendly (you can even arrive by the nearby steam train), and it's open all year round. If you're into photography, Sheffield Park is definitely one of the best gardens to visit this autumn.
Hillier Gardens are full of autumn colour
Another great autumn garden in Southern England is Hillier Gardens, in Hampshire, which really comes into its own in the autumn months. If you're looking for inspiration, take a look at the valley of Japanese maples ('Acer Valley'). The various plantings of shrubs and perennials are great examples of how to keep colour in your garden well into autumn and winter.
This is another child-friendly option, thanks to a butterfly park, bamboo wood chimes and an education centre. It's open all year, and children under 5 can get in free. Dogs, on the other hand, are banned.
View further details of prices and opening times.
Castle Howard has a bit of everything
For those of a certain age, Castle Howard will be familiar from the 1980s TV series Brideshead Revisited (starring Jeremy Irons), which was filmed in its grounds. Scenes from the TV series Victoria and a Garfield film were also shot here.
The more active may know it for the Triathlon series held there each summer.
Near Leeds and York, its vast grounds house walled gardens, woodlands, lakes and even a temple and tree nursery. It's open year-round, is dog-friendly and is one of the best gardens to visit this autumn.
Castle Howard is a full-scale commercial operation, so the events programme is packed. Autumn events include child-friendly Halloween bashes, followed by Twelve Days of Christmas events. Regular visits from Father Christmas start at the beginning of November too.
If you confine your visit to the garden centre, entry is free, otherwise, you need a ticket.
Hergest Croft Gardens, a Welsh autumnal treat
In the heart of the Welsh Marches, with views towards the Black Mountains, lie the Hergest gardens, home to the UK's 'national collection' of maple and birch trees, among others.
The 70-odd acres of trees and shrubs are particularly attractive from October onwards. Dogs and picnics are allowed, and kids go free with adults (the common is perfect for running off some energy).
If you're planning a visit, you'll need to act quickly – it closes at the end of the October until March. But if buy a season ticket holder, you can visit all year.
For more information on these beautiful Herefordshire gardens visit the website.
The best gardens to visit in Scotland this autumn?
Further north, in the Scottish Borders, the Dawyck (pronounced "doyk") gardens stay open until the end of November (before the northern chill sets in properly). They house some displays you're unlikely to find elsewhere – a four-season moss and fungi reserve, towering trees from the sixteenth century alongside Japanese and American species in glorious orange colours, and fruits and conkers galore.
Autumn garden tours and Halloween themed walks punctuate the autumn events timetable. As part of the Royal Botanic Garden of Edinburgh (RBGE), it's rather disapproving of leisure though – so it's definitely not one of the best gardens to visit this autumn if you're into dogs, throwing balls, playing games or jogging.
If you want a Botanic garden to visit in December, the Edinburgh Botanics will still be open, and there are various cafes where you can warm yourself up during your visit.
Mount Stewart in autumn, Northern Ireland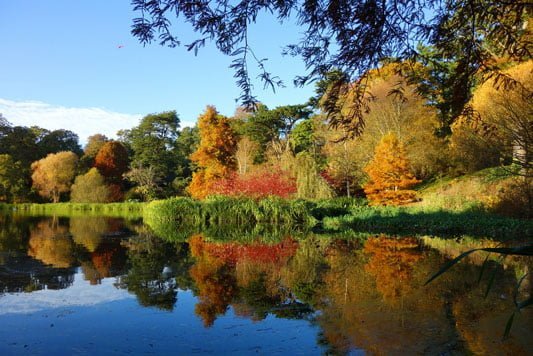 Over the Irish Sea now, to County Down, where the famous Mediterranean-style gardens apparently are based on an Italian villa landscape. Admittedly, autumn in Northern Ireland is hardly Italianate, but there's plenty to see outside the summer months because it's planted for all seasons.
As well as walled gardens, landscaping and lakes, Mount Stewart has its own squirrel trail, where you can spot the elusive red species.
There are also plenty of seasonal activities, like Halloween activities in late October and early November. It's also something of a birdwatchers' haven and it's open pretty much year round, although the adjacent Stewart House isn't.
For more information about prices, opening times and what to see have a look at the Mount Stewart website.
If you're planning a trip to the UK for next year, check out our earlier guide to the best gardens to visit in the summer months.