The 21st-century trend for using our gardens as extra living spaces has illuminated people's interest in garden lighting. Traditionally outdoor lighting was simple and practical: security lights and lighting for paths. Now the choice is endless:  eco lights, uplighters, downlighters, wall lights, ground lights, free-standing lights, decking lights, table lights, parasol lights, lanterns, party lights and Christmas lights. There's a choice of rechargeable solar powered, traditional battery operated and mains connected, as well as low wattage LEDs (light-emitting diodes), energy-efficient bulbs and high wattage halogen bulbs.
Some of this is self-explanatory, but with all the options and considerations, what are the best options available when it comes to garden lighting?
Alternative garden wall lights
Outdoor wall lights can take different forms. There are ornamental lamps, ranging from olde-worlde lanterns that look like they come from an old coaching inn, to steel industrial-chic lights. We've had a good look around the web and considered some quaint decorative lights, but our favourite outdoor wall light is this industrial lamp made from galvanised steel – it would look great on a stone or brick wall, or even a contemporary timber garden building.
Outdoor downlighting versus uplighting
When it comes to downlighting versus uplighting the location dictates the choice. Wall-mounted downlighters can be used to spotlight specific areas of your garden or cast light over a wider area, similar to what you would see in a kitchen or bathroom. Uplighters can also be used to highlight a particular feature, from a statue to a tree. They can be recessed and permanently mounted, or freestanding: spike lights are moveable lights that can be 'planted' in a flowerbed to highlight a specific plant. An alternative to highlighting the plant itself is to use lighting to throw a shadow onto a wall behind it. Clearly, this works better if the plant has an interesting silhouette.
Our choice of garden wall light is this minimalist light that works as both an uplighter and a downligher, offering the best of both worlds.
Unusual decorative garden lights
Once you start to think about highlighting particular plants or features you enter the realm of decorative garden lighting design, and there are some highly unusual options. As well as using lights to create focal points in a garden, you can use it to create even more visual interest. For example, many websites now sell underwater lighting – using it to provide mirror, colour or refraction effects around a pond, fountain or swimming pool, or to uplight plants or walls from underwater (which can cast upward shadows of ripples). If you have a pond and you really want a unique lighting experience in your garden, then you must try this efficient LED underwater light.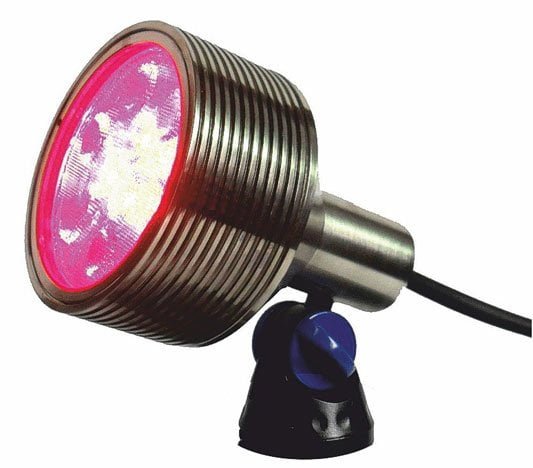 Coloured ornamental garden lighting
The possibilities for adding night-time colour to your garden have also burgeoned. How about a decorative hanging crystal ball light that turns on automatically at dusk and changes colour through purple, violet, blue, turquoise, green, orange, red and pink? Our favourite is more ethereal, a  'Murano glass garden globe' which is available in different colours. It's a striking design and stands on a thin steel post that you stick in a flower bed (in the dark it appears to hang in the air).
Playing around with shaped outdoor lights
If you have a spare £800 to spend on just one light, how about pine-tree inspired garden lights which can sit on grass, concrete or any other garden surface and stand an imposing 80 or 150cm tall? They would make a dramatic difference to any garden border, path or driveway (as well as your bank balance). In this category we've opted for a slightly more affordable design from John Lewis. We really like this cube light, which is seat by day, and red/green/white/blue glowing cube by night.
Solar powered garden lighting
Regardless of light design or type, you need to decide on wired, solar or battery-operated (the latter is probably only suitable if you're planning one-off or occasional lighting displays). Solar panels can be integrated into the actual light, or located on a separate panel that is joined to the light by a cable. The former are more flexible in terms of positioning and moving them around; the latter may provide more hours of light.
One question to ask yourself fairly early on with solar-powered lights is whether you will want to use them in winter – a couple of hours of January sunlight will likely mean the ornamental solar night lights you bought are drained by only five o'clock in the evening. Rather than selecting a favourite design of solar powered garden lights, we've instead picked out The Solar Centre as the best option, as they sell a range of lights specifically designed to work in winter as well as summer.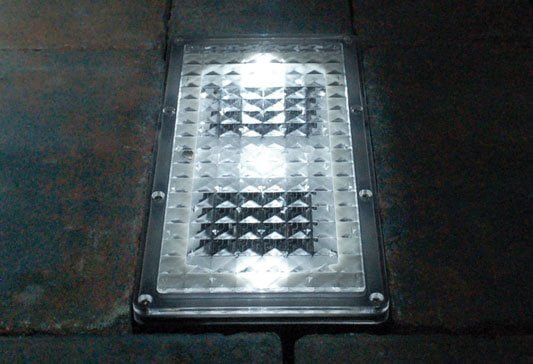 When browsing the web and considering the endless possibilities for your very own garden lighting design you might want to consider a few practicalities:
Don't use decorative ornamental indoor lights outdoors, however weatherproof they may appear (and "splash proof" doesn't mean "watertight").
Look for durable weatherproof fittings – among the top-of-the-range makes widely recommended by garden designers are Hunza lights (though they aren't the cheapest they are designed to last).
Although LED lights are long-lasting and durable, they still don't last for ever outdoors. Many garden lights on the market don't have replaceable bulbs, so once the bulb goes dark, so does your lighting.
Following on from the above, always check that rechargeable batteries are actually changeable. Rechargeable batteries can lose the ability to recharge and sometimes need to be replaced – if you buy solar powered lights make sure you can get into the battery compartment (unfortunately some lights have impenetrable innards).
LED lights are small, convenient, energy-efficient and long-lasting but they mostly provide directional light, rather than 360-degree illumination. This makes them more suitable for decorative lighting or spotlighting rather than security coverage. If you do want outdoor LED security lights, you might want to increase the number of lights you buy to ensure your property is effectively lit up.