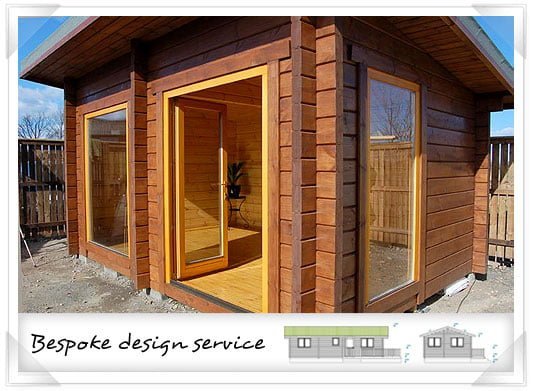 Project Name: Unique garden office design
Location: Edinburgh
Client Brief: GardenLife Log Cabins were tasked to provide a unique version of our 70mm Laggan timber garden room for use as a private office and studio all year round. The client requested 88mm laminated logs for extra insulation, living house quality windows and doors, as well as a slightly narrower design to fit within the parameters of garden. Thinner logs and wall timbers can be used for garden offices, but if you want to ensure warmth in the middle of winter, and also keep heating bills down, 88mm laminated wall timbers are the best option (and also incredibly strong and robust).
Technical Specifications: Whilst some customers require a completely unique garden office design, in other circumstances we can modify existing office designs to suit budgets and/or time constraints. In this instance, a customized Laggan garden room (with 88mm laminated timber walls and living house quality windows and doors) was the ideal solution.
Completion time: For this particular projected all we needed was 8 weeks from confirmed order to completed, watertight building.
Concluding notes: The client has been very happy with the contemporary design – it provides a lot of light and is a great space to live and work in (and the office is used for both work and play)!
If you run a business, or are thinking about expanding your premises or setting up from scratch and would like unique timber office design, just get in touch and we'd be happy to chat things over with you.