The phrase 'timber buildings' doesn't usually evoke thoughts of unconventional and impressive architecture – generally people will think of a log cabin or garden shed. But there's a huge variety of inspirational and unusual timber buildings which push the boundaries of design. We thought we'd show you some examples so you can weigh up whether they're worth investing in, or would work in your garden (or intriguingly on a lake or river)!
A tiny timber house that floats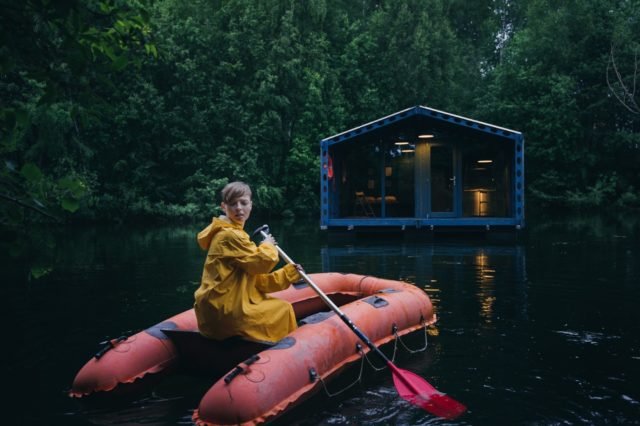 First up in our collection of unusual timber buildings is a tiny off-grid house with a twist – it floats.  Despite being clad in blue tinted aluminium, giving it a modern Scandinavian aesthetic, it's made of laminated timber and insulated with dense foam for warmth; it's also powers itself via solar panel meaning there's no need for pesky wiring (difficult anyway when you're off-grid).
It's far from large though, with a floor space of 16 square metres making it spare bedroom sized, though there's a deck with pontoons for access. Being prefabricated, this would relatively easy to build or buy if you have the money and somewhere to float it. Although we've never tried it ourselves, you could from buy a timber building from GardenLife and erect it on a floating platform!
And another floating timber living space
Continuing with the theme of buoyancy – and definitely a contender for winner of the "unusual timber buildings that float" prize – our next unusual timber building is a wooden houseboat complete with roof terrace.
Slightly more spacious, at 23 square metres, it too is fully insulated and even available on Airbnb complete with a video from its creator. The rooftop makes it perfect for sun lounging (subject to weather!) as long as you have access to the money, time and location for a timber building of this type.
Truly one-off unusual timber buildings
Next on our honour roll of amazing wooden buildings is this remarkable 'silo cottage'. It's very much a one-off, with its cone shaped roof reaching nearly 40 feet. You can rent it on Airbnb and experience for yourself its intricate timber-latticed staircase and cosy wooden stove.
Although it's an enviable design, unusual timber buildings involving such unconventional shapes are certainly a bit much for anyone considering themselves less than an expert in construction and woodworking. A cheaper, simpler and quicker option would be a GardenLife Quick Fit self assembly garden room.
An unusual timber garden home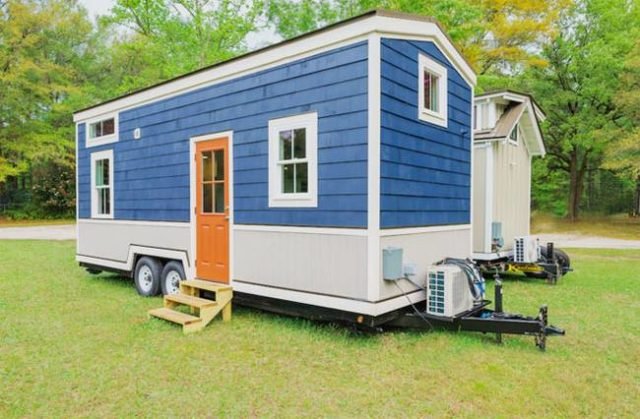 Simpler to achieve is this timber family home, which has two bedrooms (one of which doubles as an office-space with fold-away bed). The structure itself isn't unusual – it's basically a trailer – but it shows how creative use of colour and paint can turn a conventional timber cabin into a real-life version of a Playmobil house. Young children would love it as an extra living space or holiday home.
An unusual timber building that only engineers would think of
More unusual and architectural is this inventive home-cum-storage unit with two floors and even a rooftop deck. Raised off the ground to prevent damp, it was built (perhaps unsurprisingly) by two engineers and even features a second loft bedroom and compact living and storage space.
Accordingly, the design is perfect for space-starved gardens though you could probably live in it full-time as it's as equipped as timber buildings come. Planning permission might have to be considered though, considering its height.
An unusual wooden building-and-greenhouse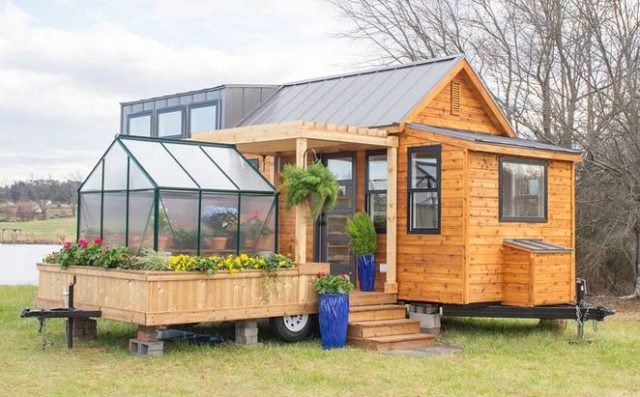 Next is a pocket-sized timber country home, with its own greenhouse/self-contained garden. A roomy 30 square metres, it's essentially an enormous trailer clad in timber and steel.
With air conditioning and fancy kitchen appliances, it probably belongs more in the category of 'home' than garden building. And the trailer design won't be to everyone's taste, but the raised flower beds and greenhouse are perfect for keen gardeners though.
A recycled timber hideaway
Perhaps a more realistic example of what can be built without help from a designer or architect is this timber cabin/greenhouse built of wood and recycled windows which create a shop window-style display of the plants within.
The space is tiny and it's never going to appear on Grand Designs, but it's a wonderful example of what you can achieve with a tight budget and a spirit of enterprise. It would make a unusual timber gardening retreat, guest-room or children's playhouse. Definitely one of our favourite unusual timber buildings.
A wooden eco-building for cold climates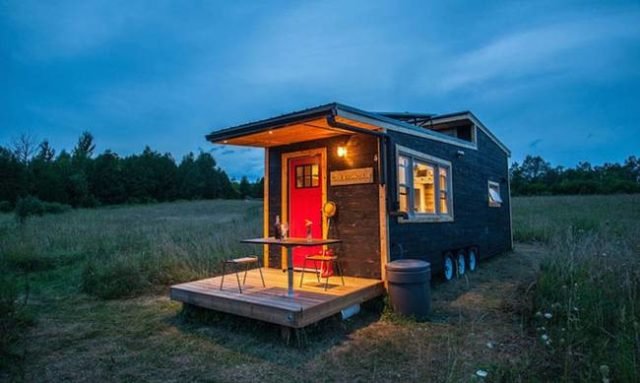 Ideal for those in less forgiving climates, this trailer-style eco-house comes complete with a drawbridge porch. It's cold-proof, designed for off-grid living, and is also more flexible than some of our other unusual timber buildings because it's easily towable. The interior is tidily organised for maximum floor space. Along with a few others, this belongs in the "transportable unusual timber buildings" section.
A timber cabin in the woods
Very different in style is this Hobbit-style Geodesic dome cabin built with reclaimed timber and natural plaster, to create a nature-centric, hideaway
This is certainly the most DIY, and escapist, structure in this list and although it's not exactly spacious, it does fit a wood stove, a bed platform and a desk. Not perhaps somewhere to relocate to permanently, but definitely a beautiful weekend retreat.
Despite the diversity of their design, there is one thing all of these unusual timber buildings have in common – they're quite significant undertakings. If you don't have the necessary time, effort or expertise you might want to think again and browse the GardenLife website, where all the hard stuff is done for you.
Photographs from www.goodshomedesign.com