Do I need planning permission for a summer house?
Our guide to legal and visual considerations for garden buildings
In general, most timber summer houses that are carefully positioned within a back garden do not need planning permission, however, there are a few legal and visual considerations to be aware of.
Summer house planning permission: Legal considerations
There are planning rules governing all outbuildings, including garden rooms, summer houses, timber and metal sheds, garages and green houses, as well as swimming pools and tennis enclosures.
Generally you do not need to seek planning permission for an outbuilding if it is at the back or side of the house; if it does not take up more than 50% of the space; and is 'ancillary' to the main building (i.e. not a separate dwelling). Most people planning a summer house or garden room meet these criteria and can go ahead with buying and erecting their building without seeking planning permission.
However, there are a few exceptions and restrictions in the UK, including:
If you plan to put an outbuilding within 2 metres of your boundary it should be no taller than 2.5 metres at its highest point. These measurements vary across counties and regions, so you should always check with the local planning authority if your summer house is going to be sited close to a neighbours boundary.
Elsewhere in the garden, there is a maximum overall height of 4 metres for buildings with an apex roof, or 3 metres for other types of roof; on both types the eaves must not be higher than 2.5 metres.
If either of these apply, you will need to get planning permission before you put up an outbuilding. And if you live on 'designated land' (such as a National Parks, Areas of Outstanding Natural Beauty, Conservation Areas and World Heritage sites), you may need planning permission regardless of the height of the summer house.
Is planning permission different in England, Scotland and Wales?
Yes, it can also vary from county to county too. Scotland is slightly stricter about boundaries, and you will need planning permission if any part of a building within 1 metre of a neighbouring property is more than 2.5 metres high.
Common to Wales, England and Scotland is the relaxed attitude to outbuildings less than 2.5 metres high. This is why a section of the GardenLife website is dedicated to timber summer houses, garden log cabins, sheds and garages of this size. You can look through it secure in the knowledge that, unless you want to put the outbuilding in your front garden or on designated land, you won't need to go through the planning application process. However, do check your local council website anyway, just in case the rules change or you unknowingly live in a conservation area!
Remember too that, with planning permission, it's not just the height of the building that matters, it's where you put it. Moving a 3-metre high summer house a couple of metres sideways could make all the difference in terms of whether or not you need to make a planning application.
The other point to remember is that planning permission will involve some extra paperwork, but won't necessarily derail your garden plans. Government statistics show that the vast majority of planning applications are granted for summer houses and garden rooms.
Summer house planning permission: Visual considerations
When thinking about the height of a garden building, you also need to visualise how it will look on site. Most of us conscientiously consider how the width and depth will fit the space available, but don't forget the vertical dimension too. Try to ensure the height of the building is in proportion to any other nearby buildings. If it is much taller or lower, it will look mismatched and may spoil the lines of your garden. In addition, it's best to allow air movement under your summer house or garden room, as this prevents a build up of damp, moist air that can lead to rot, decay or increased insect activity. When you imagine the height of your chosen summer house within your garden, you should always increase the height to allow for the decking, blocks, paving or timber base on which it will sit (which could increase the total height by up to 20cm or more).
How to research planning permission for a summer house
If in doubt, always check before buying and installing a summer house. The best place to read up on planning permission rules is your local council's website. Most councils are now very good about explaining the rules for planning permission in clear, comprehensible language, so you should not have to wade through too much legal jargon.
If you want to check the planning regulations at source, and can stomach legal terms such as 'curtilage', various government websites set out the rules in full for England, Scotland [PDF] and Wales [PDF].
10% off the RRP
Check out our garden building sale - there are big savings on garden rooms, summer houses and log cabins!
GardenLife news
Keep up to speed with helpful gardening guides, outdoor living suggestions and the latest product news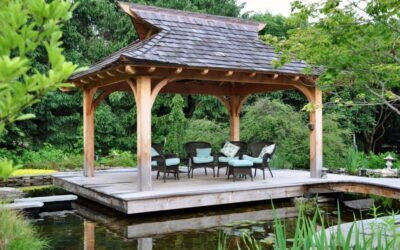 Buying a garden gazebo in the UK Cheap or quality? Pop-up or permanent? Metal or timber? Thinking of buying a garden gazebo in the UK? If you live somewhere windy, where rain regularly comes at you diagonally, a wooden garden gazebo may not be for you. But if you live...
read more