Cashback referral buying a garden building
The GardenLife £50 cashback referral scheme
How referrals work
At GardenLife we believe our customers are our best advert, and to back that up we provide every customer with £50 for each referral that results in a sale. If that wasn't tempting enough, this offer is unlimited, so you can refer as many friends and family as you like. And there's more! GardenLife will also give your friends and family a £100 discount from our published website prices (or £50 for buildings on special offer). In short: you refer a new customer and receive £50 for each confirmed sale, and we discount each new customer's first sale by £100!
How to take part
After your building is installed send us a photo and a testimonial (or leave a star rating and review on the relevant product page).
We'll then provide you with a unique referral reference number. Simply pass your reference number on to friends and family so we can track referrals, provide cashback and a discount accordingly.
How to get started
Email your friends and family a picture of your cabin with details of our referral scheme.
Have a party and ask your friends to come and see your new cabin!
Let your friends and family know about your new cabin via Facebook or Twitter, and follow GardenLife Log Cabins too.
With this unlimited offer you may even end up paying for your own cabin purely with cashback! Any questions, just get in touch.
GardenLife news
Keep up to speed with helpful gardening guides, outdoor living suggestions and the latest product news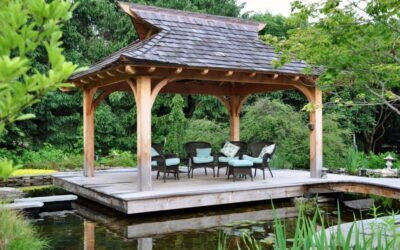 Buying a garden gazebo in the UK Cheap or quality? Pop-up or permanent? Metal or timber? Thinking of buying a garden gazebo in the UK? If you live somewhere windy, where rain regularly comes at you diagonally, a wooden garden gazebo may not be for you. But if you live...
read more