Quality timber buildings
Sourcing the best quality timber for the best quality garden buildings
For a warm, sturdy, durable garden building, you need the right type of wood. There are plenty of log cabins, garden rooms and timber summer houses on the market, but there's wide variation in the quality of timber that different manufacturers use.
The importance of dense timber
When you choose a timber building for your garden you want a timber that is dense. Why? With a closer grain, the wood is stronger and more stable. It's less likely to twist, warp or split, and it offers better insulation properties.
Generally, a slow-growing tree produces denser wood than a tree that grows quickly – even if they're the same variety. So, when choosing a timber building, it's best to look for timber grown in cold climates. It's why GardenLife use Nordic timber – the long, cold winters and short summers slow down the growth of the trees, making the timber denser and stronger than faster-growing wood from southern Europe or the UK.
The attractions of spruce
All our cabins use spruce – it's a 'whitewood' known for its stability (the Wright brothers apparently used spruce for their first aircraft). Among the properties that make it ideal for making quality garden buildings is the fact it doesn't contract or expand excessively, so there is not too much movement in the timber. It's also less resinous than woods such as pine, so the timber doesn't leak sap. In its natural state it is not resistant to damp and insects, but GardenLife offer additional dip treatment and always provide recommendations on the best way to stain, varnish or paint your garden building.
Another great thing about spruce is its attractive grain and pale colour – it's a very handsome wood. Its paleness makes the interiors of our cabins very airy and light; redwoods create a darker interior and are much more 'rustic' in appearance. This is great if you want to pretend you're in a Northern American log cabin, but less versatile in terms of interior design possibilities.
Spruce is also a very sustainable material. As part of an FSC-certified organisation, GardenLife use spruce from forests that are subject to strict rules on harvesting and replanting.
What else to consider
The provenance of the timber is important when you choose a garden building or summer house, and you also want to check that the timber's been treated and prepared properly. For example, kiln-dried wood dries out consistently, so is more stable and robust. And any wood that is going to come into contact with the ground must be pressure-treated to prevent rot. So, for example, all the timber used in the foundation joists for our buildings is green pressure treated, which gives it protection against fungal decay, insects and damp.
You can also help to protect your garden building from damp and rot by placing it in a position where air can circulate, rather than right up against a wall or too close to trees or shrubs. If air cannot circulate, the wood doesn't get the chance to dry out, which can lead to warp, rot and mildew. Regular maintenance will also prolong the life of the timber. Check for damage after storms and winds, replace damage roof felt, and renew wood treatments regularly.
At GardenLife we pay just as much attention to the quality of our timber as we do the quality of our finished garden buildings, so you can always buy with confidence. When you purchase from GardenLife Log Cabins, you're guaranteed a great price, free delivery and a five year warranty, and you're certain to enjoy your quality garden building for years to come!
GardenLife news
Keep up to speed with helpful gardening guides, outdoor living suggestions and the latest product news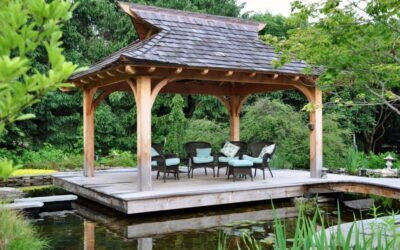 Buying a garden gazebo in the UK Cheap or quality? Pop-up or permanent? Metal or timber? Thinking of buying a garden gazebo in the UK? If you live somewhere windy, where rain regularly comes at you diagonally, a wooden garden gazebo may not be for you. But if you live...
read more