Sustainable garden buildings
GardenLife Log Cabin's green policy
We place tremendous emphasis on environmentally friendly ways of thinking and value greatly the wellbeing of the environment and its natural resources. We are committed in our production and everyday work lives to sustainable practices which will help to ensure the health of the environment for future generations.
Sustainable garden buildings are important to us. Although we're based in Edinburgh, Scotland, our garden buildings are made from softwood timbers carefully sourced from sustainably managed forests in the Baltic states, Estonia in particular. We choose to source timber for our garden buildings from Estonia instead of Scotland because the long harsh Baltic winters ensure that the Nordic spruce grows slowly – this makes for a far denser, more durable and longer lasting timber that is much better for making garden buildings. In addition, Estonian law dictates that the annual harvest of timber cannot exceed the annual growth of standing timber and that all areas harvested must be replanted to ensure the overall forest area is not depleted.
The use of timber from this area not only ensures sustainable forestry practices, but the long cold winters and short summers of the Baltic region make for a much better quality softwood timber, one that GardenLife are proud to use in our timber garden buildings and log cabins.
Please don't hesitate to get in touch for any further information on issues relating to our sustainable garden buildings, log cabin production, or other matters that relate to the environment. Alternatively, if you'd like to see a few examples of our products, you can visit our offices in Edinburgh in the south of Scotland – just give us a call to arrange a visit.
GardenLife news
Keep up to speed with helpful gardening guides, outdoor living suggestions and the latest product news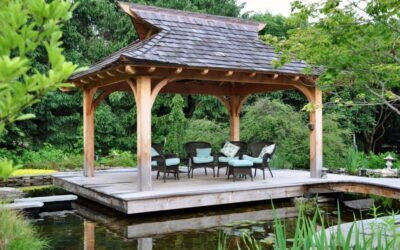 Buying a garden gazebo in the UK Cheap or quality? Pop-up or permanent? Metal or timber? Thinking of buying a garden gazebo in the UK? If you live somewhere windy, where rain regularly comes at you diagonally, a wooden garden gazebo may not be for you. But if you live...
read more